Top Stories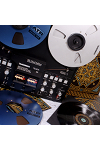 Comparatively listening to the Naxatras III audiophile vinyl cut and the tape directly transferred from the master, as edited by engineer Jesus Agnew and Magnetic Fidelity, leads to the appreciation of the analog sound values, when the process is, indeed, impeccable. But, at the same time, the prerequisites are far from simple, both in the recording/transfer and the playback chain. For us, this was a research project that, probably, took too long but it was worth every minute spent!

It is true that we expected a review sample of the melto2 phono preamplifier rather impatiently but we had good reasons to do so. LAB12 has proven to master the art of the well-balanced design, one where technical excellence is in line with true flexibility. Here are our impressions …
The effective support of audio equipment and its successful isolation from environmental vibrations is a fixed target for which various methods have been employed, sometimes quite successful and sometimes not so much. Thixar specializes in this area and proposes two different solutions for two different problems. We put them on a test and here are our impressions.
---
News & Industry Update

Panasonic recently announced the new SC-PMX802 Premium Hi-Fi System and Network Player, incorporating technology from Hi-Fi specialist Technics, to deliver outstanding sonic performance.

Periodic Audio unveiled the Rhodium, an ultra-compact high-resolution DAC that offers the music lover incredible performance, value and versatility.

The new compact loudspeaker is a two-way design and features a phenolic resin cabinet, supporting a ZRR (Zero Rear Reflection) technology high frequency unit and a handmade Rega MX-125 bass/mid driver.

Smartphone manufacturers are removing headphone jacks from their products. Without a headphone jack, how do you listen to music on your smartphone with the headphones and earphones you currently own? A&K's development team give an answer to this and other questions.

Focal recently unveiled a new reference: Clear Mg. In addition to their sophisticated finishes, the sound reproduction of these open-back headphones is even sharper than that of their Clear predecessor.

The MCD85 with its open chassis design is not only a serious piece of music hardware, but it shows that you are serious about your love of music.

The new Klimax DSM is the epitome of extreme engineering, with every element designed from first principles, inside and out, applying decades of Linn's unique audio innovation and digital technology expertise.

Entirely redesigned and improved, the mythical speakers Antal and Comete feature the latest acoustic innovations from Triangle's R&D department. Between legacy and perpetual quest for innovation, this 40th Anniversary Limited Edition embodies the philosophy of the well-known French company.
---
Equipment Reviews...

Based on a very interesting set of ideas, with a long history but few examples of a practical application, the Benchmark AHB2 could serve as a convincing example of what the future of power amplifiers can be. Combine it with a renowned D/A Converter like the DAC2 HGC, and what you have is a top quality system from which only the loudspeakers are missing!

SCM19, ATC's entry level "Hi-Fi" series top stand-mount model, proved to be one of the best compact loudspeakers you can buy in this price range, especially if what you are looking for is some real high fidelity behavior. How did they manage this? Read the review to find out…