Top Stories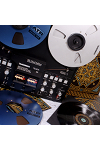 Comparatively listening to the Naxatras III audiophile vinyl cut and the tape directly transferred from the master, as edited by engineer Jesus Agnew and Magnetic Fidelity, leads to the appreciation of the analog sound values, when the process is, indeed, impeccable. But, at the same time, the prerequisites are far from simple, both in the recording/transfer and the playback chain. For us, this was a research project that, probably, took too long but it was worth every minute spent!

It is true that we expected a review sample of the melto2 phono preamplifier rather impatiently but we had good reasons to do so. LAB12 has proven to master the art of the well-balanced design, one where technical excellence is in line with true flexibility. Here are our impressions …
The effective support of audio equipment and its successful isolation from environmental vibrations is a fixed target for which various methods have been employed, sometimes quite successful and sometimes not so much. Thixar specializes in this area and proposes two different solutions for two different problems. We put them on a test and here are our impressions.
---
News & Industry Update

Boulder amplifiers recently announced the immediate release and shipment of their 866 Integrated amplifier. The 866 is a part of the 800 Series and the successor to the venerable 865 Integrated.

According to the Glasgow-based manufacturer, blending timeless elegance with precision engineering, Series 3 is an all-in-one, wireless loudspeaker that brings music to life in incredible detail, getting closer to the original performance than ever before.

The Tube-Line in a compact design, but not "compact" in sound quality - that's how Vincent introduces their new SV-200 hybrid amplifier. In fact, SV-200 is a little brother of the SV-237MK and SV-700, using a circuit which includes both transistors and tubes and offering both analog and digital inputs.

Based on the PA 1000 E model, the PA1100 E differs only in its input configuration, offering a digital board with a complete set of inputs, ranging from the standard S/PDIF, USB and HDMI ports up to Bluetooth wireless streaming.

Chora is a new generation of high-quality yet affordable loudspeakers, featuring unique technology and design. Replacing the renowned Chorus range, Chora embodies French manufacturing quality and is an interesting new entry into the Hi-Fi world.

Audeze, recently announced a new reference audio headphone, the Audeze LCD-1. Available now, this new device combines Audeze's renowned planar magnetic technology with a new lightweight foldable design.

The epitome comprises mamalo's effort to employ their newly developed allotropes of carbon nanotubes technologies and redesign the original project into an otherwise classic configuration cable, which offers reference sonic performance at a moderate price.

Building on the success of the A3, Magico expanded the A-Series with the introduction of the new A1 bookshelf loudspeaker, which features a fully braced aluminum enclosure, a beryllium dome tweeter, a carbon Nanographene cone, and their elliptical crossover.
---
Equipment Reviews...

Based on a very interesting set of ideas, with a long history but few examples of a practical application, the Benchmark AHB2 could serve as a convincing example of what the future of power amplifiers can be. Combine it with a renowned D/A Converter like the DAC2 HGC, and what you have is a top quality system from which only the loudspeakers are missing!

SCM19, ATC's entry level "Hi-Fi" series top stand-mount model, proved to be one of the best compact loudspeakers you can buy in this price range, especially if what you are looking for is some real high fidelity behavior. How did they manage this? Read the review to find out…