Top Stories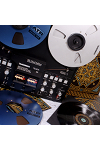 Comparatively listening to the Naxatras III audiophile vinyl cut and the tape directly transferred from the master, as edited by engineer Jesus Agnew and Magnetic Fidelity, leads to the appreciation of the analog sound values, when the process is, indeed, impeccable. But, at the same time, the prerequisites are far from simple, both in the recording/transfer and the playback chain. For us, this was a research project that, probably, took too long but it was worth every minute spent!

It is true that we expected a review sample of the melto2 phono preamplifier rather impatiently but we had good reasons to do so. LAB12 has proven to master the art of the well-balanced design, one where technical excellence is in line with true flexibility. Here are our impressions …
The effective support of audio equipment and its successful isolation from environmental vibrations is a fixed target for which various methods have been employed, sometimes quite successful and sometimes not so much. Thixar specializes in this area and proposes two different solutions for two different problems. We put them on a test and here are our impressions.
---
News & Industry Update

Since 1982, Wharfedale's famous Diamond speakers have served as the classic entry point to true high-fidelity sound, their exceptional sonic value for money earning numerous "product of the year" accolades in the UK and around the world. This autumn, with the introduction of the all-new Diamond 12 Series, Wharfedale once again raises the bar for affordable, high-performance loudspeakers.

Moon has created an iconic audio system to celebrate their 40th anniversary. The stunning Moon Anniversary Edition features the highly acclaimed 680D streaming DAC and the elegantly powerful 600i v2 integrated amplifier.

Audio Solutions introduced the Overture MK3, their third-generation, entry level loudspeaker system. All Overture models are completely redesigned with new cabinets, drivers and crossovers.

Elac recently announced the Uni-Fi 2.0 line of home speakers. This new line builds upon the success of the first-generation Uni-Fi Family and incorporates a variety of new features and technologies.

The BR-20 breaks new ground, merging Bryston's brand new, best-ever analog preamplifier with their award-winning DAC and bit-perfect high-resolution streaming capability all into a single chassis.

Vivid Audio recently introduced the revolutionary Kaya S12. Although the internal volume of this loudspeaker only measures 12 liters and puts less than 7kg on the scale, it is filled to the brim with their own patented technologies.

NAD announced another high-performance amplifier that uses Purifi Eigentakt amplification technology, a two-channel powerhouse that is a perfect partner to high-quality preamplifiers or in any application where additional channels of audiophile amplification are desired.

New powered stereo speakers from the celebrated US maker come equipped with comprehensive connectivity, including HDMI ARC and Bluetooth.
---
Equipment Reviews...

Based on a very interesting set of ideas, with a long history but few examples of a practical application, the Benchmark AHB2 could serve as a convincing example of what the future of power amplifiers can be. Combine it with a renowned D/A Converter like the DAC2 HGC, and what you have is a top quality system from which only the loudspeakers are missing!

SCM19, ATC's entry level "Hi-Fi" series top stand-mount model, proved to be one of the best compact loudspeakers you can buy in this price range, especially if what you are looking for is some real high fidelity behavior. How did they manage this? Read the review to find out…