Top Stories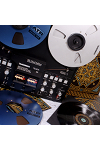 Comparatively listening to the Naxatras III audiophile vinyl cut and the tape directly transferred from the master, as edited by engineer Jesus Agnew and Magnetic Fidelity, leads to the appreciation of the analog sound values, when the process is, indeed, impeccable. But, at the same time, the prerequisites are far from simple, both in the recording/transfer and the playback chain. For us, this was a research project that, probably, took too long but it was worth every minute spent!

It is true that we expected a review sample of the melto2 phono preamplifier rather impatiently but we had good reasons to do so. LAB12 has proven to master the art of the well-balanced design, one where technical excellence is in line with true flexibility. Here are our impressions …
The effective support of audio equipment and its successful isolation from environmental vibrations is a fixed target for which various methods have been employed, sometimes quite successful and sometimes not so much. Thixar specializes in this area and proposes two different solutions for two different problems. We put them on a test and here are our impressions.
---
News & Industry Update

Grado recently announced their first ever True Wireless in-ear headphone. The unconventional, Brooklyn based, audio manufacturer has wielded its more than 65 years of know-how to deliver a perfectly tuned offering to the worldwide market.

The new amplifier adds the power of HD streaming to home entertainment systems. Powering bookshelf, floor standing, in-wall or in-ceiling speakers, or combining with other Harman Kardon Citation products, creates a multi-channel wireless surround sound system.

Grimm Audio recently announced a new release (v1.2.14) for the firmware running in their critically acclaimed music player MU1. The main focus of this update is on the internal control software that manages all systems in the MU1.

The company says that the all-new exterior style, high quality construction as well as outstanding sound performance of the new EM5 will keep reminding one it is time to change their headphones for something better…

Enabling audio streaming from all of the major services – including Deezer, Napster, Qobuz, Spotify and Tidal – the ST60 is the perfect companion to any stereo amplifier, including one of from Arcam's own HDA series of award-winning two-channel audio engines.

Designed to highlight the PX7's pioneering use of carbon-fiber composite reinforcement in its construction, the new Carbon Edition features a high- quality carbon black finish with diamond-cut detailing on each ear cup, creating an even more premium look that also evokes the illustrious heritage of B&W headphones over the years, inspired by the original P5.

The original iconic turntable which set the standard for all record players that came after, is re-imagined for contemporary use, but Beogram 4000c will be available only in Europe for now.

To mark 45 years of Hi-Fi design and manufacturing, Japanese digital music library specialist, Melco, has launched the N10 45th Anniversary Limited Edition, a special version of its flagship half-width library.
---
Equipment Reviews...

Based on a very interesting set of ideas, with a long history but few examples of a practical application, the Benchmark AHB2 could serve as a convincing example of what the future of power amplifiers can be. Combine it with a renowned D/A Converter like the DAC2 HGC, and what you have is a top quality system from which only the loudspeakers are missing!

SCM19, ATC's entry level "Hi-Fi" series top stand-mount model, proved to be one of the best compact loudspeakers you can buy in this price range, especially if what you are looking for is some real high fidelity behavior. How did they manage this? Read the review to find out…