Top Stories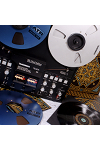 Comparatively listening to the Naxatras III audiophile vinyl cut and the tape directly transferred from the master, as edited by engineer Jesus Agnew and Magnetic Fidelity, leads to the appreciation of the analog sound values, when the process is, indeed, impeccable. But, at the same time, the prerequisites are far from simple, both in the recording/transfer and the playback chain. For us, this was a research project that, probably, took too long but it was worth every minute spent!

It is true that we expected a review sample of the melto2 phono preamplifier rather impatiently but we had good reasons to do so. LAB12 has proven to master the art of the well-balanced design, one where technical excellence is in line with true flexibility. Here are our impressions …
The effective support of audio equipment and its successful isolation from environmental vibrations is a fixed target for which various methods have been employed, sometimes quite successful and sometimes not so much. Thixar specializes in this area and proposes two different solutions for two different problems. We put them on a test and here are our impressions.
---
News & Industry Update

Pro-Ject announced a new audiophile record for the first time under the Pro-Ject Records label. Available as a 180gr double LP and a direct master tape copy, this production is a landmark release for Pro-Ject Audio Systems. The record is easy to listen to, with great atmosphere: Jazz classic on its best.

Q Acoustics has added a new model to its award-winning 3000i loudspeaker range: the 3030i standmount speaker, engineered to provide more powerful bass performance in a conveniently compact size.

Chord Electronics has introduced its ground-breaking next-generation Ultima amplifier topology to (full-size) stereo for the first time, with the introduction of two new power amplifiers, the Ultima 5 and Ultima 6.

AudioControl has announced the introduction of three new A/V receivers and two new A/V processors. Τhe company says that all five units share a stunning industrial design along with the most advanced technologies available, painstakingly engineered to be the foundation of a premium home cinema.

The M 002 P is a pure playback machine and provides an upgrade path, since -in addition to the internal amplifiers, the tape head is directly connected to the XLR connectors, so the machine, similar to high-quality record players, can serve as a pure drive and can be combined with various external playback amplifiers.

Chora 826-D, Chora Center and Chora Surround to join the line of first Chora loudspeakers, combining design, technology and performance for a genuine home cinema experience at an unrivaled price.

Smartly dressed in petrol blue with a touch of copper, the go-anywhere hip-dac portable USB DAC/headphone amp is designed to slip discretely into a pocket and offers an extensive hi-res specification that belies its eminently affordable price tag.

The company says that you can experience a serious performance enhancement by upgrading your loudspeakers to active operation, with their new VXN active crossover which by-passes the speakers' internal passive crossovers.
---
Equipment Reviews...

Based on a very interesting set of ideas, with a long history but few examples of a practical application, the Benchmark AHB2 could serve as a convincing example of what the future of power amplifiers can be. Combine it with a renowned D/A Converter like the DAC2 HGC, and what you have is a top quality system from which only the loudspeakers are missing!

SCM19, ATC's entry level "Hi-Fi" series top stand-mount model, proved to be one of the best compact loudspeakers you can buy in this price range, especially if what you are looking for is some real high fidelity behavior. How did they manage this? Read the review to find out…