Top Stories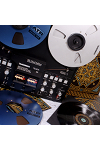 Comparatively listening to the Naxatras III audiophile vinyl cut and the tape directly transferred from the master, as edited by engineer Jesus Agnew and Magnetic Fidelity, leads to the appreciation of the analog sound values, when the process is, indeed, impeccable. But, at the same time, the prerequisites are far from simple, both in the recording/transfer and the playback chain. For us, this was a research project that, probably, took too long but it was worth every minute spent!

It is true that we expected a review sample of the melto2 phono preamplifier rather impatiently but we had good reasons to do so. LAB12 has proven to master the art of the well-balanced design, one where technical excellence is in line with true flexibility. Here are our impressions …
The effective support of audio equipment and its successful isolation from environmental vibrations is a fixed target for which various methods have been employed, sometimes quite successful and sometimes not so much. Thixar specializes in this area and proposes two different solutions for two different problems. We put them on a test and here are our impressions.
---
News & Industry Update
iFi has reworked the award-winning ZEN DAC and ZEN CAN to create step-up Signature versions, delivering even higher levels of performance, alongside an associated "crowd design" initiative.

Densen is celebrating it's 30th anniversary with a special BEAT pre- and power amplifier set - the BEAT Power and BEAT Pre, that only can be bought directly from Densen's web shop.

Sennheiser says that their new HD 250BT headphones deliver a thrilling audio experience with dynamic bass, state-of-the-art Bluetooth connectivity and a durable design that is built to take on life's adventures.

Spotify's reaction to both artists and fans, saying that sound quality is important to them, is Spotify HiFi, allowing, later this year, Premium subscribers in select markets to upgrade their sound quality and listen to their favorite songs the way artists intended.

Audeze expanded on their award-winning iSINE legacy with Euclid, their new closed-back planar magnetic in-ear, allegedly offering superior detail retrieval and sonic accuracy with a soundstage and dynamic range so robust you'll forget you're listening to a closed-back design.

Bang & Olufsen introduced Beosound Level, a portable wireless home speaker that delivers impressive sound, unrivaled craftsmanship and a modular design that improves longevity.

McIntosh recently introduced the MHA200, a device designed for discerning headphone enthusiasts who demand the most from their headphones. It offers a versatile set of connectivity options and allows for nearly all headphone types to be connected.

Wireworld Cable Technology offers the Stellar Fiber Optic HDMI, an extended-range product series which utilize the highest quality laser modules and driver chips, to improve image quality and provide long term reliability over the long lengths used in many home theater installations.
---
Equipment Reviews...

Based on a very interesting set of ideas, with a long history but few examples of a practical application, the Benchmark AHB2 could serve as a convincing example of what the future of power amplifiers can be. Combine it with a renowned D/A Converter like the DAC2 HGC, and what you have is a top quality system from which only the loudspeakers are missing!

SCM19, ATC's entry level "Hi-Fi" series top stand-mount model, proved to be one of the best compact loudspeakers you can buy in this price range, especially if what you are looking for is some real high fidelity behavior. How did they manage this? Read the review to find out…