Top Stories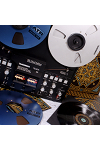 Comparatively listening to the Naxatras III audiophile vinyl cut and the tape directly transferred from the master, as edited by engineer Jesus Agnew and Magnetic Fidelity, leads to the appreciation of the analog sound values, when the process is, indeed, impeccable. But, at the same time, the prerequisites are far from simple, both in the recording/transfer and the playback chain. For us, this was a research project that, probably, took too long but it was worth every minute spent!

It is true that we expected a review sample of the melto2 phono preamplifier rather impatiently but we had good reasons to do so. LAB12 has proven to master the art of the well-balanced design, one where technical excellence is in line with true flexibility. Here are our impressions …
The effective support of audio equipment and its successful isolation from environmental vibrations is a fixed target for which various methods have been employed, sometimes quite successful and sometimes not so much. Thixar specializes in this area and proposes two different solutions for two different problems. We put them on a test and here are our impressions.
---
News & Industry Update

Audiolab recently released their first product designed to improve the quality of AC electricity fed to audio and AV systems, the dual-action DC Block. The new device removes RFI/EMI noise whilst banishing "DC on the mains" to deliver pure, re-balanced power to audio and AV system components.

IsoAcoustics adds to their award-winning line of isolation products with the Aperta Sub, an isolation stand designed for subwoofers weighing up to 80 pounds (36.3 kg). The Sub allows the listener to discover greater bass definition from their subwoofer with less complaints from their neighbors.

The new Luxman L-595A Special Edition is a Class A integrated amplifier built to commemorate Luxman's 95th anniversary. The unique industrial design re-imagines the highly regarded L-570 series first released in 1989.

Following its reveal, last year, Chord Electronics' recently announced the worldwide shipping of the 2yu digital interface for the 2go streamer/server, to create Chord's' first-ever network bridge, ready for use with DACs, DAC-equipped A/V devices and Chord Electronics' Hugo M Scaler.

The original Alexx loudspeaker, launched in 2016, quickly gained critical acclaim throughout the industry. When it came time for an upgrade, the decision was made that a fresh look was in order, so Wilson Audio's R&D team approached the Alexx V as it if were an all-new product.

With the new IE 900 audiophile earphones, Sennheiser has brought together technical innovation, portability, meticulous attention to detail, and an uncompromising demand for perfection to deliver a listening experience without compromise.

The company recently unveiled a new product range – the result of years of engineering to push the boundaries of improving sound quality and technology. The Classic Legend offers three different models within the series: 380, 680, and 880, including interconnects, speakers, and power cables.

The MB20 Bluetooth Transceiver is an easy and simple solution to add Bluetooth streaming capabilities to virtually any McIntosh (or non-McIntosh) home audio system of any era, as it is a small (its footprint not much bigger than a smartphone), stand-alone, complete Bluetooth streaming solution that does not require any third-party apps to use.
---
Equipment Reviews...

Based on a very interesting set of ideas, with a long history but few examples of a practical application, the Benchmark AHB2 could serve as a convincing example of what the future of power amplifiers can be. Combine it with a renowned D/A Converter like the DAC2 HGC, and what you have is a top quality system from which only the loudspeakers are missing!

SCM19, ATC's entry level "Hi-Fi" series top stand-mount model, proved to be one of the best compact loudspeakers you can buy in this price range, especially if what you are looking for is some real high fidelity behavior. How did they manage this? Read the review to find out…