Top Stories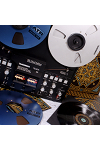 Comparatively listening to the Naxatras III audiophile vinyl cut and the tape directly transferred from the master, as edited by engineer Jesus Agnew and Magnetic Fidelity, leads to the appreciation of the analog sound values, when the process is, indeed, impeccable. But, at the same time, the prerequisites are far from simple, both in the recording/transfer and the playback chain. For us, this was a research project that, probably, took too long but it was worth every minute spent!

It is true that we expected a review sample of the melto2 phono preamplifier rather impatiently but we had good reasons to do so. LAB12 has proven to master the art of the well-balanced design, one where technical excellence is in line with true flexibility. Here are our impressions …
The effective support of audio equipment and its successful isolation from environmental vibrations is a fixed target for which various methods have been employed, sometimes quite successful and sometimes not so much. Thixar specializes in this area and proposes two different solutions for two different problems. We put them on a test and here are our impressions.
---
News & Industry Update

The Reference Class products are developed in pursue of an insatiable desire to deliver ultimate sound quality and they offer premium musical experience the Technics brand is known for. Now, the company unveiled their first Reference Class integrated amplifier, the SU-R1000.

Take your first step into authentic Hi-Fi with Linn's Majik DSM. The powerful combination of network music player, preamp and power amp, all in one timeless package, is peerless, whether you're streaming music or using one of the many inputs to plug in your sources and, even, a turntable.

Is it possible to make an analogue headphone amp that delivers high-end performance with all manner of headphones and bring it to every music lover for a more-than-reasonable price? iFi says "yes" and gives us the CAN!

Whilst 212/SX thunders and shakes foundations, it also resolves detail and restores midrange warmth to its correct balance. At 1,000 watts with four 12-inch drivers, 212/SX drives rooms hard and in multiple modes which allows it to create richer bass everywhere.

Cobra is Audio Note'w (UK) latest integrated amplifier, a tube-based device with an additional on-board DAC, featuring the venerable Philips TDA1543 16-bit converter.

Redesigned from the ground up and built on the foundation of the performance and power you can expect from Yamaha, the new RX-V line is positioned to support the latest trends and specifications for home entertainment, including gaming – both now and into the future.

Pro-Ject Audio Systems recently announced the Debut Carbon EVO, the latest evolution of their most popular turntable design that revolutionized the Hi-Fi industry.

Clearaudio's ever-popular duo of mid-priced phono stages offer a raft of covetable options for the high-end audio beginner or upgrader – and both have now been treated to their own upgrade.
---
Equipment Reviews...

Based on a very interesting set of ideas, with a long history but few examples of a practical application, the Benchmark AHB2 could serve as a convincing example of what the future of power amplifiers can be. Combine it with a renowned D/A Converter like the DAC2 HGC, and what you have is a top quality system from which only the loudspeakers are missing!

SCM19, ATC's entry level "Hi-Fi" series top stand-mount model, proved to be one of the best compact loudspeakers you can buy in this price range, especially if what you are looking for is some real high fidelity behavior. How did they manage this? Read the review to find out…