Top Stories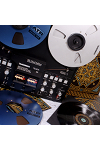 Comparatively listening to the Naxatras III audiophile vinyl cut and the tape directly transferred from the master, as edited by engineer Jesus Agnew and Magnetic Fidelity, leads to the appreciation of the analog sound values, when the process is, indeed, impeccable. But, at the same time, the prerequisites are far from simple, both in the recording/transfer and the playback chain. For us, this was a research project that, probably, took too long but it was worth every minute spent!

It is true that we expected a review sample of the melto2 phono preamplifier rather impatiently but we had good reasons to do so. LAB12 has proven to master the art of the well-balanced design, one where technical excellence is in line with true flexibility. Here are our impressions …
The effective support of audio equipment and its successful isolation from environmental vibrations is a fixed target for which various methods have been employed, sometimes quite successful and sometimes not so much. Thixar specializes in this area and proposes two different solutions for two different problems. We put them on a test and here are our impressions.
---
News & Industry Update

Cambridge Audio unveiled the next evolution of its celebrated Melomania headphones, the Melomania Touch true wireless in-ear headphones, a design which follows on the success of the award-winning Melomania 1, to offer an all-new design with intuitive touch controls, stunning sound performance and world-class battery life.

Cary Audio is not known for change for the sake of change alone. The new DMS-700 represents a significant step forward in network and internet music streaming sound reproduction, while further solidifying the Cary Audio DMS platform and range of products as one of the absolute best there is for network audio.

Sonus Faber recently announced the Maxima Amator, a two-way loudspeaker that successfully merges two drivers to achieve a unique emotion with the maximum representation of natural sound. The new floorstander pays homage to brand's Italian roots.

The Black Cube II is a phono stage of distinction, using studio-grade components and decades of expert design knowledge to create a product with peerless dynamics and exceptional sound imaging to let you rediscover old and new recordings as if it was your first time, Lehmannaudio says.

The XR series is positioned towards discerning audio enthusiasts and, at its launch, it will include six brand new products, including two integrated amplifiers with DACs, a preamp, two CD players and an external power supply.
Technics unveiled their new Premium Class Ottava f SC-C70MK2 a new version created by further refining the sound quality, function and design of the preceding SC-C70 model, a compact all-in-one system highly acclaimed in the market for casual enjoyment of high-quality music.

Audio Research released a special book commemorating the company's 50th anniversary. Entitled "Audio Research: Making the Music Glow", the book describes the people and processes responsible for the design, manufacturing, fine-tuning and marketing their legendary products.

Announced in September, the new Krane tonearm for Linn Majik LP12 is now available and all new Majik LP12 turntables will ship with the new higher performance arm fitted as standard.
---
Equipment Reviews...

Based on a very interesting set of ideas, with a long history but few examples of a practical application, the Benchmark AHB2 could serve as a convincing example of what the future of power amplifiers can be. Combine it with a renowned D/A Converter like the DAC2 HGC, and what you have is a top quality system from which only the loudspeakers are missing!

SCM19, ATC's entry level "Hi-Fi" series top stand-mount model, proved to be one of the best compact loudspeakers you can buy in this price range, especially if what you are looking for is some real high fidelity behavior. How did they manage this? Read the review to find out…