Top Stories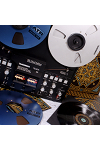 Comparatively listening to the Naxatras III audiophile vinyl cut and the tape directly transferred from the master, as edited by engineer Jesus Agnew and Magnetic Fidelity, leads to the appreciation of the analog sound values, when the process is, indeed, impeccable. But, at the same time, the prerequisites are far from simple, both in the recording/transfer and the playback chain. For us, this was a research project that, probably, took too long but it was worth every minute spent!

It is true that we expected a review sample of the melto2 phono preamplifier rather impatiently but we had good reasons to do so. LAB12 has proven to master the art of the well-balanced design, one where technical excellence is in line with true flexibility. Here are our impressions …
The effective support of audio equipment and its successful isolation from environmental vibrations is a fixed target for which various methods have been employed, sometimes quite successful and sometimes not so much. Thixar specializes in this area and proposes two different solutions for two different problems. We put them on a test and here are our impressions.
---
News & Industry Update

The PowerStation is the latest addition to iFi's collection of performance enhancing audio essentials – a six/eight-way mains block that uses Active Noise Cancellation and ensures any audio or AV system is supplied with clean, consistent electricity to unleash its full potential.

The 205D is a directly heated triode designed by the Western Electric Co in the 1920s and is probably the oldest tube in current production!

The Ananda-BT is the wireless version of the well-known planar headphone Ananda, introduced in 2018. Hifiman uses HWA, LDAC and aptX HD codecs to offer high resolution through a wireless connection (up to 24/96).

Marantz recently announced the PM7000N, the company's first fully discrete integrated Hi-Fi amplifier with high resolution music streaming capabilities.

Burson's last version of the Conductor features a high-end DAC-chip/USB interface solution, a class A 7.5W amplifier, multiple proprietary power supplies, and upgradable op-amps in a sleek chassis and offers 32/768 and DSD512 playback along with analog inputs and wireless streaming via Bluetooth.

The Quad Vena II Play is the latest addition to the best-selling QUAD Vena series of integrated amplifiers, signaling the arrival of wireless audio streaming and multi-room technology to the Quad product portfolio.

Chances are, most of your favorite albums from the last fifty years were recorded, mixed or mastered with Rupert Neve's legendary studio gear. Now, with the new Fidelice line of playback equipment, the classic sound of Rupert Neve's designs is available to bring true studio-quality audio to your home.

Bryston has introduced the new BDA-3.14 multi-function DAC, a device that adds an array of impressive features to the much heralded BDA-3 DAC platform. The BDA-3.14 includes a built-in music player, an on-board digital volume control and an updated user interface, creating a world class digital entertainment hub.
---
Equipment Reviews...

Based on a very interesting set of ideas, with a long history but few examples of a practical application, the Benchmark AHB2 could serve as a convincing example of what the future of power amplifiers can be. Combine it with a renowned D/A Converter like the DAC2 HGC, and what you have is a top quality system from which only the loudspeakers are missing!

SCM19, ATC's entry level "Hi-Fi" series top stand-mount model, proved to be one of the best compact loudspeakers you can buy in this price range, especially if what you are looking for is some real high fidelity behavior. How did they manage this? Read the review to find out…