Top Stories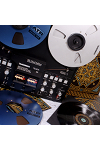 Comparatively listening to the Naxatras III audiophile vinyl cut and the tape directly transferred from the master, as edited by engineer Jesus Agnew and Magnetic Fidelity, leads to the appreciation of the analog sound values, when the process is, indeed, impeccable. But, at the same time, the prerequisites are far from simple, both in the recording/transfer and the playback chain. For us, this was a research project that, probably, took too long but it was worth every minute spent!

It is true that we expected a review sample of the melto2 phono preamplifier rather impatiently but we had good reasons to do so. LAB12 has proven to master the art of the well-balanced design, one where technical excellence is in line with true flexibility. Here are our impressions …
The effective support of audio equipment and its successful isolation from environmental vibrations is a fixed target for which various methods have been employed, sometimes quite successful and sometimes not so much. Thixar specializes in this area and proposes two different solutions for two different problems. We put them on a test and here are our impressions.
---
News & Industry Update
French audio specialist Elipson has introduced a new range of loudspeakers, inspired by the monitors of the 1970s. Its Heritage XLS15 are vintage in design but versatile in function, 3-way, bass reflex designs.

The CSA150 is the top model in the new line of Copland CSA series amplifiers, a current feedback power plant which, under dynamic conditions, will allegedly deliver several times its rated power - enough to drive almost any loudspeaker.

The new Musical Fidelity M3x Vinyl phono stage supports both moving magnet (MM) and moving coil (MC) cartridges, is the first phono stage for the M3 level of the company's popular M-Series range of electronics, and benefits from a full feature set and a discrete circuit layout.

Produced using up-cycled aviation grade carbon fiber for superior strength, durability and weight, RX Reels' new tape reels will not warp or bend, and will allow your tape deck to look just as good as it sounds.

Evo by Cambridge Audio is a beautifully designed all-in-one music player that gives you instant access to all the music in the world. Designed in their London studio, by lead designer Ged Martin, Evo's minimal and timeless aesthetic will fit into any interior and lifestyle.

This miniature yet mighty subwoofer seamlessly blends into any room and speaker system, energizing the space with astonishingly rich, effortless, and detailed bass that's all the more impressive given its micro-sized enclosure, SVS says.

Bang & Olufsen announced the launch of Beoplay HX, a headphone with digital ANC, up to 35 hours of play time and elevated comfort, exemplifying Bang & Olufsen's expertise in sound, design, and craftsmanship.

After six years, Audiozen's first integrated amplifier, the Alchemy, is retired and the Embrace, a new hybrid design takes its place.
---
Equipment Reviews...

Based on a very interesting set of ideas, with a long history but few examples of a practical application, the Benchmark AHB2 could serve as a convincing example of what the future of power amplifiers can be. Combine it with a renowned D/A Converter like the DAC2 HGC, and what you have is a top quality system from which only the loudspeakers are missing!

SCM19, ATC's entry level "Hi-Fi" series top stand-mount model, proved to be one of the best compact loudspeakers you can buy in this price range, especially if what you are looking for is some real high fidelity behavior. How did they manage this? Read the review to find out…