Top Stories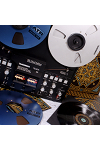 Comparatively listening to the Naxatras III audiophile vinyl cut and the tape directly transferred from the master, as edited by engineer Jesus Agnew and Magnetic Fidelity, leads to the appreciation of the analog sound values, when the process is, indeed, impeccable. But, at the same time, the prerequisites are far from simple, both in the recording/transfer and the playback chain. For us, this was a research project that, probably, took too long but it was worth every minute spent!

It is true that we expected a review sample of the melto2 phono preamplifier rather impatiently but we had good reasons to do so. LAB12 has proven to master the art of the well-balanced design, one where technical excellence is in line with true flexibility. Here are our impressions …
The effective support of audio equipment and its successful isolation from environmental vibrations is a fixed target for which various methods have been employed, sometimes quite successful and sometimes not so much. Thixar specializes in this area and proposes two different solutions for two different problems. We put them on a test and here are our impressions.
---
News & Industry Update

In 2018, Audio Analogue launched their PureAA line of products, drawing key ideas from their 20th Anniversary amps and adding a raft of further features. Third in the line, following the AAcento amplifier and AAphono, is the new AAdac.

Created with a passion for music, design and craftsmanship, Beosound Balance is inspired by interior objects to redefine home audio in a way that only Bang & Olufsen can: a soft, rounded silhouette, an innovative user interface and seven carefully placed drivers with beam-forming technology.

Kerr Acoustic is already a well-known name in professional audio circles. Now, founder Jes Kerr plans to bring his high resolution loudspeakers to the home audiophile market, apparently, starting from the UK.

The largest and most advanced of Magico's A Series, the A5 incorporates the company's first 5-inch pure midrange driver as well as enhanced midrange and bass driver cone technology. The three-way, five- driver floor standing speaker retains such Magico hallmarks as extensively cross-braced 6061 aircraft grade aluminum and Elliptical Symmetry crossover.

Nordost's new Tonearm Cable+ redesign which optimizes every aspect of tonearm cable construction, is available in the Blue Heaven, Heimdall 2, Frey 2, and Tyr 2 tiers.

The Electrocompaniet ECP 2 MKII Phono Preamplifier is the latest product release from Electrocompaniet, continuing the upgrade of all their Classic Line products and featuring a brand new chassis and front plate design in line with all other MKII upgrades.

Arc represents Sonos' most immersive home cinema experience. With smart, adaptable, cinema-quality sound, support for Dolby Atmos, and multiple voice assistants, Arc sets a new standard for premium home cinema sound.

The company recently announced some important updates to their top-of-the range phono stage, the Reference Phono 3 with the launch of an SE version, following the launch of the recent Reference 6SE Line-Stage Preamplifier.
---
Equipment Reviews...

Based on a very interesting set of ideas, with a long history but few examples of a practical application, the Benchmark AHB2 could serve as a convincing example of what the future of power amplifiers can be. Combine it with a renowned D/A Converter like the DAC2 HGC, and what you have is a top quality system from which only the loudspeakers are missing!

SCM19, ATC's entry level "Hi-Fi" series top stand-mount model, proved to be one of the best compact loudspeakers you can buy in this price range, especially if what you are looking for is some real high fidelity behavior. How did they manage this? Read the review to find out…