Top Stories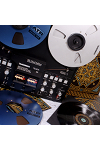 Comparatively listening to the Naxatras III audiophile vinyl cut and the tape directly transferred from the master, as edited by engineer Jesus Agnew and Magnetic Fidelity, leads to the appreciation of the analog sound values, when the process is, indeed, impeccable. But, at the same time, the prerequisites are far from simple, both in the recording/transfer and the playback chain. For us, this was a research project that, probably, took too long but it was worth every minute spent!

It is true that we expected a review sample of the melto2 phono preamplifier rather impatiently but we had good reasons to do so. LAB12 has proven to master the art of the well-balanced design, one where technical excellence is in line with true flexibility. Here are our impressions …
The effective support of audio equipment and its successful isolation from environmental vibrations is a fixed target for which various methods have been employed, sometimes quite successful and sometimes not so much. Thixar specializes in this area and proposes two different solutions for two different problems. We put them on a test and here are our impressions.
---
News & Industry Update

The Aethos is a dual mono design that delivers 156 W per channel into 6 Ω, a no-compromise product with the goal to deliver music as faithfully as possible, built to Rega's high standards of reliability and quality, to ensure many years of musical enjoyment.

Melco, taking advantage of the parent company Buffalo Technology's design team expertise, has launched an audiophile-technology extreme-performance data switch, the S100, which, they say, offers improved sound quality for any network audio device using an Ethernet connection.

Audio MusiKraft recently announced the new Nitro Series cartridges. The Nitro series is up to now their most advanced series and the company says that these are the world's first and only "Tunable and Customizable" phono cartridges.

NP5 Prisma is a clever little device that provides Primare's Prisma network player technology to virtually any system with a digital input, offering extensive wireless connectivity and streaming capabilities.

Audiovector recently launched a new series of loudspeakers: the R-series, a loudspeaker line based on a mixture of evolution and new inventions. Everything that a designer believe a pair of loudspeakers should ever deliver, R-series does to perfection, the company says.

Boulder amplifiers recently announced the immediate release and shipment of their 866 Integrated amplifier. The 866 is a part of the 800 Series and the successor to the venerable 865 Integrated.

According to the Glasgow-based manufacturer, blending timeless elegance with precision engineering, Series 3 is an all-in-one, wireless loudspeaker that brings music to life in incredible detail, getting closer to the original performance than ever before.

The Tube-Line in a compact design, but not "compact" in sound quality - that's how Vincent introduces their new SV-200 hybrid amplifier. In fact, SV-200 is a little brother of the SV-237MK and SV-700, using a circuit which includes both transistors and tubes and offering both analog and digital inputs.
---
Equipment Reviews...

Based on a very interesting set of ideas, with a long history but few examples of a practical application, the Benchmark AHB2 could serve as a convincing example of what the future of power amplifiers can be. Combine it with a renowned D/A Converter like the DAC2 HGC, and what you have is a top quality system from which only the loudspeakers are missing!

SCM19, ATC's entry level "Hi-Fi" series top stand-mount model, proved to be one of the best compact loudspeakers you can buy in this price range, especially if what you are looking for is some real high fidelity behavior. How did they manage this? Read the review to find out…