Harman introduced a new generation of Infinity Reference Series loudspeakers.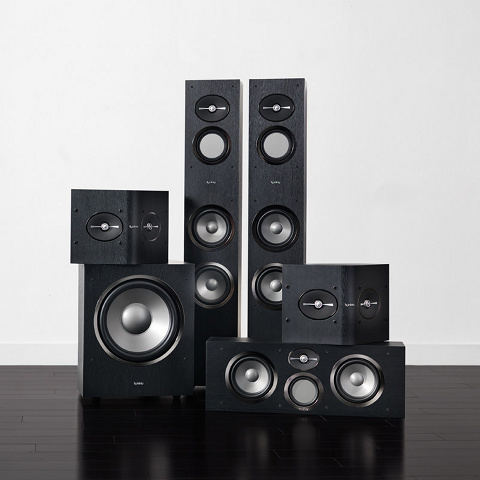 Source: Press Release, Last Accessed: 2014/07/29
Harman, ushers in a new generation of its groundbreaking Infinity loudspeakers, founded in 1968. The new Infinity Reference Series, already a winner of the iF Product Design Award for 2014, encompasses loudspeakers from bookshelves to subwoofers.
"More than 45 years ago, the Infinity brand blended aeronautical-based design with state-of-the-art audio technology. It turned heads even then," said Michael Mauser, president, Lifestyle Division, Harman. "Now, Infinity has returned with the all-new Infinity Reference series of loudspeakers destined to, once again, redefine your listening experience with Ceramic Metal Matrix Diaphragm cone technology and our most advanced waveguide to date."
From the compact bookshelf R152 speakers to the top-of-the-range floor-standing R263, the heart of the Infinity Reference family of loudspeakers is the CMMD (Ceramic Metal Matrix Diaphragm) transducer technology. According to Harman, this proprietary process yields a durable ceramic surface to the aluminum cones and results in an ideal stiffness to weight ratio while helping to move resonances up in frequency and out of the pass-band of the drivers. The three-way models R263, R253 and RC263 utilize a unique flat-piston CMMD midrange driver that helps reduce diffraction in the critical high and mid-frequency bands. The 1-inch CMMD tweeter found in all full-range models is mated to an advanced waveguide. The combination provides seamless integration with the CMMD midranges and woofers to provide smooth coverage across a wide listening area, the company says. The tuned ports and internal cabinet bracing help the CMMD woofers deliver powerful and extended deep bass response.
The RC263 center channel is a three-way model, while both the RC263 and the smaller RC252 center channel loudspeakers are sonically matched to the companion floorstanding, bookshelf, and surround speakers. The RS152 Surround Channel loudspeaker uses Harman's patented Hemispherical Soundfield Technology (HST), whose combination of driver positioning and waveguide pattern control provides remarkably balanced coverage across a 180-degree hemispherical listening area.
Holding up the low end, both SUB R10 and SUB R12 powered subwoofers in the Infinity Reference Series start with a fiber-composite driver mated to a high-power digital amplifier. The solid 0.75-inch (19 mm) construction of the tuned-port subwoofer cabinets with its internal edge-to-edge windowpane bracing provides a firm foundation to reinforce the tight, punchy bass required for high-resolution digital surround and modern popular music. A full complement of controls including variable crossover, level and selectable LF trim allows fine-tuning to suit any listening environment and personal taste.
For more information: http://www.harman.com/
---