The new Beolit 15: portable Bluetooth power for the entire home from B&O.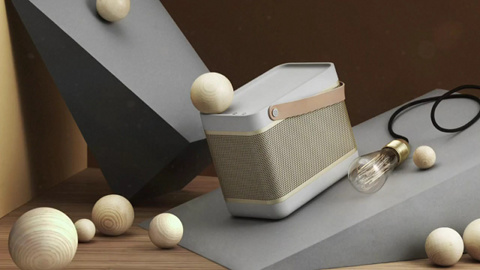 Source: Press Release, Last Accessed: 2015/02/19
B&O PLAY by Bang & Olufsen unveiled Beolit 15 – a powerful portable Bluetooth speaker with True360 omni-directional sound, up to 24 hours of continuous playtime from a single battery charge, and featuring premium quality materials such as anodized aluminum and full grain leather, designed by award-winning Danish designer Cecilie Manz.
According to the press release, shortly after introducing the ultra portable BeoPlay A2, the Beolit 15 is an even more powerful Bluetooth speaker that will fit every room of your home. Standing on the shoulders of its legendary Beolit predecessors (the first Beolits were introduced in the 1930s), Beolit 15 packs the best of modern technology with acclaimed acoustics, premium materials and clean Scandinavian design.
Beolit 15 fills up every room with music - and does it with a clarity that reveals all the details your music has to offer. Thanks to the innovative True360 sound solution everyone gets to enjoy the same music experience no matter where they are placed in the room. The built-in battery with up to 24 hours of playtime on a single charge allows for total flexibility, so you can bring Beolit 15 with you wherever you want.
"At B&O PLAY we constantly push ourselves to innovate – but also to constantly refine the best to be even better" says Henrik Taudorf Lorensen, Head of B&O PLAY and continues, "Beolit 12 was released in 2012 and is a great and iconic product. With Beolit 15, we have taken that product and refined it even further – completely redesigning the acoustic structure and bringing in many of our recent innovations like True360 sound and great battery life. We believe it is the best music system of its kind in the market." The True360 omni-directional sound gives you music all the way around the speaker – and with 240 Watts of peak power there's enough under the hood to fill even larger rooms while the Adaptive Power Management technology minimizes battery consumption and provides up to 24 hours of playtime per charge. Bluetooth 4.0 technology makes it easy and fast to connect and play music from any Bluetooth device. A touch of a single button and a matter of seconds – and you're ready to enjoy your music. According to Cecilie Manz, the Danish designer behind Beolit 15, "Beolit 15 stands out with its anodized aluminum grill smoothly wrapped around the speaker and its full grain leather strap that lets you carry it around your home easily - yet it blends in with its clean lines and cool colors". "The speaker body is made from strong and durable polymer and there is a non-slip rubber tray on top of the speaker for your mobile devices. It's a product built to last – all over the house. You could call it a strong little workhorse – dependable and unspoiled", Manz adds. Beolit 15 is available in 3 colors: Polar Blue, Natural Champagne and Shaded Rosa for €499,-.
For more information: http://www.beoplay.com/
---