Onkyo's All-in-One DAC/Amp Music Player Enables 192/24 and DSD playback from iOS and Android Devices.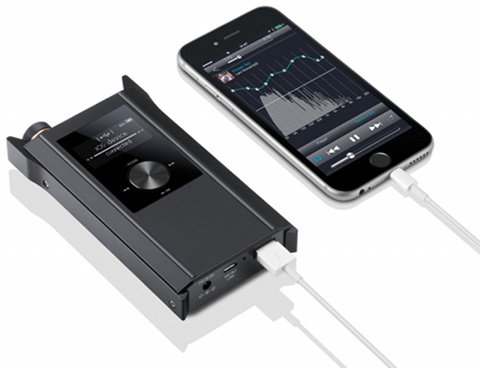 Source: Press Release, Last Accessed: 2015/03/30
Being, essentially, an end-to-end solution for native 192 kHz/24-bit Hi-Res Audio playback via iPhone and Android, the new DAC-HA300 D/A Converter/Headphone Amplifier/SD Player from Onkyo adds sophisticated high-fidelity headphone amplification and D/A decoding for Hi-Res Audio to the listener's everyday portable audio setup.
With a slot accommodating up to 128 GB of music stored on microSD card, an OLED screen, and easy playback controls, the DAC-HA300 also serves as a self-contained media player and headphone amplifier, while a Micro USB Type-B input enables asynchronous D/A conversion of Hi-Res Audio from PC without need to install drivers. The device also features a switching optical/coaxial/analog input capable of accepting digital signals from connected devices up to a maximum 192/24 resolution, making it the perfect all-rounder for home, desktop, and portable use. The DAC-HA300 is compatible with Onkyo's HF Player application for iOS and Android devices. When the DAC-HA300 is connected to the mobile handset via USB (standard Lightning cable for iOS devices, On-the-Go cable for Android), a free app upgrade to HD Player Pack enables output of Hi-Res PCM and 5.6 MHz DSD files at native resolution to the DAC-HA300 for decoding and playback. The application also imports and seamlessly presents other audio formats stored on mobile in an intuitive user interface, and includes an FIR digital filter based equalizer that allows users to create and save their preferred EQ settings for specific artists, genres, or albums.
According to the press release, though, the real difference between the DAC-HA300 and similar devices, is its superior sound quality. Rather than using a low-cost integrated circuit amplifier, the unit is based around the acclaimed MUSES8920 op-amp, a high-quality audio component with an optimized circuit layout to ensure signals are amplified with minimal distortion—just 0.004% THD+N at 32 Ohms (100 mW + 100 mW, JEITA). Combined with a fully discrete push-pull output stage and a selectable gain adjustment function, the DAC-HA300 will effortlessly drive any headphones, from low impedance IEMs to full-sized 600-Ohm open-backed cans. Likewise, the 192 kHz/32-bit TI Burr-Brown PCM1795 Digital-to-Analog Converter was hand-selected for its exceptionally low out-of-band noise performance and excellent resistance to jitter. Whether listening to 5.6 MHz DSD downloads on the office PC or compressed files from mobile on the way home from work, the combination of DAC and discrete amplification technology presents music with the utmost clarity, timing, and energy.
The DAC-HA300 includes a long-life internal lithium-ion battery that returns approximately seven hours of playback when connected to an iPhone via USB Type-A input, and can be recharged via USB and PC or more rapidly with the supplied 5 V DC cable and plug. Constructed from durable aluminum and with a user-friendly knurled volume control knob, bump protectors, and positive action gain switch, the DAC-HA300 is equally at home on the road, on the desktop, or connected to a headphone set for late-night listening.
For more information: http://www.onkyo.com/