Parrot introduced Zik 3, the newest generation of Parrot wireless headphones.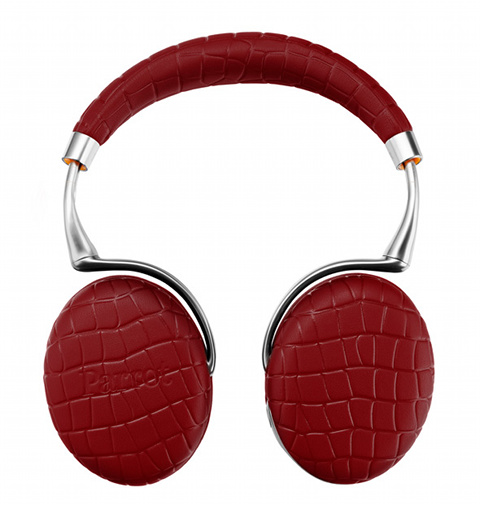 Source: Official Website, Last Accessed: 2015/09/17
Zik reinvents itself with an improved design, wireless charging, Hi-Fi quality in USB, and smart noise canceling, finished with shiny croco, leather-grain or over-stitched effects in tremendously trendy colors. Also, the design of the headphone has been modified, especially the headband which has been enlarged for even better comfort.
Parrot Zik 3 has its own wireless charger and is compatible with wireless Qi chargers. Charging time is 2 hours for about 18 hours of autonomy. The new headphones are compatible with all brands of mobile phones available in the market, accepting a large number of music sources (audio via Bluetooth and through a three-point mini jack cable for the connection to all audio and video systems, like those available in planes) and supporting NFC technology for easy connection.
Located on the entire surface of the right earpiece, a tactile panel accesses the Parrot Zik 3's basic functions in a very intuitive manner. A vertical movement of the finger adjusts the volume, a horizontal "finger swipe" launches the next of previous track and a tap pauses the music. Placing the Parrot Zik 3 around your neck also pauses the music while putting the headphones back on your head allows the music to resume playing.
According to Parrot, the Zik 3 benefits from a very powerful adaptive noise control. The headset's microphones capture the surrounding noise and an algorithm combine these signals to generate opposing acoustic waves, creating noise reduction up to 30 decibels. The ANC can be managed via the headset's dedicated App, but the Zik 3 is also capable to adapt to surrounding noise, automatically. A Parrot patented algorithm compensates the isolation from the earpiece by re-injecting part of the surrounding noise. This algorithm also removes the occlusion effect commonly experienced with closed headphones. During a phone conversation, for example, this mode enables you to have a natural perception of your own voice offering an optimized listening experience and eliminating the isolation sensation.
The dedicated "Parrot Zik" App for smartphones and tablets is now compatible with Apple Watch and Android hardware enabling the listener to tune his set to his musical tastes. There is an acoustics simulation feature to recreate the acoustics of a living room, a concert hall or a jazz club, an equalizer, a "Producer Mode", a high performance five-band, full-parametric equalizer combined with a proprietary spatial-effects processor and, -last but not least- a "Tuned By:" mode, to access the audio presets of artists and listen to their music the way they want it to sound on the Parrot Zik or download the presets created and shared by other Parrot Zik users.
The Parrot Zik 3 works with a rechargeable Li-Ion battery and it will be available at the end of 2015.
For more information: http://www.parrot.com/
---