Polk Audio Expands T Series Line of entry-level loudspeakers.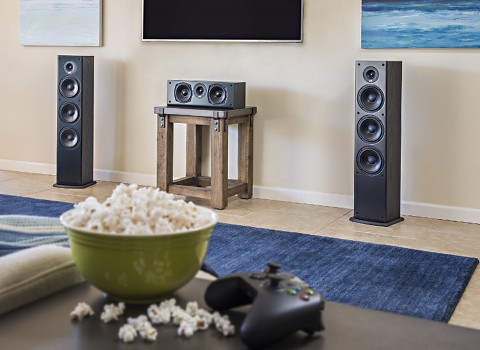 Source: Press Release, Last Accessed: 2015/09/01
Polk Audio announced the launch of its newest T Series Loudspeakers—a collection of floor standing tower, center channel and bookshelf speakers harnessing the brand's renowned audio performance and authentic design.
According to the press release, the T Series was modeled after Polk's first Monitor Series Loudspeakers which launched the company into critical acclaim 43 years ago and reaffirms Polk's commitment to offering its customers high-quality audio. Consisting of the T50 floor standing tower speakers ($129.95/each), the T30 center channel speaker ($129.95) and T15 bookshelf speakers ($99.95/pair), the T Series is designed to serve as the entry-level system for listeners seeking an improved home theater experience for around $500. From TV to movies, sporting events, games and music, the T Series delivers excellent sound at accessible price points for today's consumer.
Designed with a sleek furniture-grade black oak finish, each T Series loudspeaker features quality cabinet construction providing listeners with a rich and detailed audio experience with premium acoustics for years of enjoyment. Additionally, with Polk's history in high-performance audio equipment, the speakers offer brighter highs, clearer voicing, wide-open mid-range and incredible bass response, allowing for an even more immersive entertainment experience, the company says.
"Polk engineers are famous for saying it's easy to make expensive speakers sound great," said Michael Greco, global brand director for Polk. "The challenge is making an entry level line with exceptional sound that far exceeds its price. The T Series does just that, providing a balanced audio reproduction and incredible listening experience, whether you're an avid movie watcher or music fan."
Serving as the flagship member of the T Series, the T50 floor standing tower speaker features a 1-inch silk dome tweeter with Polk's custom wave guide, helping to control dispersion, increase the power handling of the tweeter and minimize unwanted high-frequency. Two 6.5-inch bi-laminate composite Dynamic Balance drivers produce open, uncolored midrange and punchy, dynamic bass, while an additional two 6.5-inch sub bass radiators deliver powerful output bass at the lowest frequencies. The T30 center speaker—also featuring the same 1-inch silk dome tweeter as the T50—has two 5.25-inch Dynamic Balance drivers and a rear firing bass port for more powerful bass. Finally, the T15 bookshelf speakers boast front firing bass ports, convenient keyhole slots for wall mounting, 5.25-inch Dynamic Balance drivers, and 0.75-inch Dynamic Balance silk dome tweeters.
For more information: http://www.polkaudio.com/
---