Yamaha unveiled the CX-A5100 flagship Aventage-series preamp.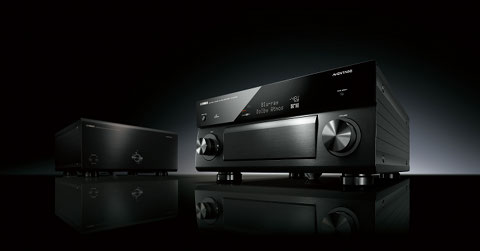 Source: Press Release, Last Accessed: 2015/08/27
The CX-A5100 adds several key features over its well-admired predecessor, the CX-A5000, including compatibility with Dolby Atmos and DTS:X, dual XLR subwoofer outlets, built-in Wi-Fi and Bluetooth, as well as full support of 4K video with HDCP 2.2 compatible HDMI.
Yamaha's Cinema DSP HD3 (HD Cubic) technology has been revamped for the CX-A5100 to maximize speaker performance by enabling them to reproduce fuller, richer and more immersive sound, the company says.
All channels of this model use ultra-high performance SABRE32 Ultra DACs, which provide 192 kHz/32-bit processing with a superior signal-to-noise ratio and high dynamic range for Blu-ray Disc players, as well as from high-resolution source inputs over a home network.
Bluetooth support and built-in Wi-Fi improves installation flexibility and provides easy access to countless music sources. In addition, compatibility with FLAC/WAV/AIFF, Apple Lossless and DSD formats means that high-resolution audio can be easily played from a networked PC, NAS or USB flash drive.
CX-A5100 is also the first product, other than the company's AV receivers that were introduced earlier this year, which is compatible with the MusicCast wireless multiroom audio system that was unveiled last week. MusicCast delivers music to any room in a home via an array of Yamaha audio products with control provided by a simple app.
Yamaha's exclusive YPAO - R.S.C. with 3D, multi-point and angle measurement provides automatic sound parameter optimization that maximizes the performance effectiveness of Cinema DSP HD3 and Dolby Atmos.
The internal structure eliminates high frequency noise interference from the digital circuitry, while shielded power supplies and a large power transformer resist the radiation of noise and vibration. Chassis stiffness is enhanced by a three-ply structure that incorporates an independent top cover, aluminum side panels and an H-shaped cross frame. The A.R.T. (Anti-Resonance Technology) Wedge in the center of the bottom cover acts as an additional vibration countermeasure.
The Aventage CX-A5100 preamplifier is already available at authorized Yamaha dealers in an MSRP of $2,999.95 (at the US market).
For more information: http://www.yamaha.com/
---