Top-selling Yamaha RX-V Series of Network AV Receivers expands music streaming with Bluetooth and 4K Ultra HD.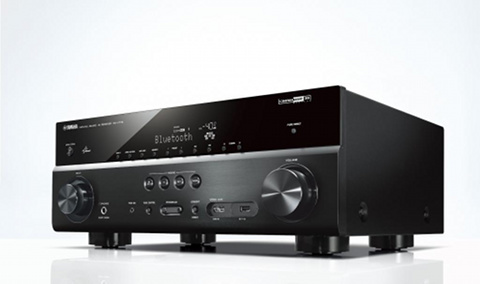 Source: Press Release, Last Accessed: 2015/05/19
Yamaha introduced its boundary 2015 RX-V Series network AV receivers, including the 7.2-channel RX-V779, RX-V679 and RX-V579, as well as the 5.1-channel RX-V479. All four of these RX-V 79 Series models feature full 4K Ultra HD connectivity with HDMI 2.0 and support HDCP 2.2 for the enjoyment of 4K video content. In addition, Wi-Fi, Bluetooth, AirPlay and Spotify Connect are built-in to provide seamless wireless connectivity for music streaming from compatible devices and online services.
Taking music streaming connectivity even further, each model offers access to Spotify and Pandora music services along with Internet radio provided by vTuner. The top two models, the RX-V779 and RX-V679, also include SiriusXM Internet Radio and Rhapsody music streaming services. All models are compatible with the top rated Yamaha AV Controller App enabling the AV receiver to be controlled seamlessly by iOS and Android devices.
The RX-V779 and RX-V679 supports 4K Ultra HD at 60p 4:4:4 for watching content in this super high-resolution format, while the RX-V579 and RX-V479 provide 4K Ultra HD at 60p 4:2:0. HDCP 2.2 compatibility is found in all models to enable them to work with copy protected 4K media streaming devices and future Blu-ray Disc players. The RX-V679 and RX-V779 also incorporate a video upscaling processor that will take content from analog and HDMI inputs and convert them to 4K.
Yamaha has further optimized its exclusive Compressed Music Enhancer to effectively reproduce vivid and lively sound from music streamed via Bluetooth from smartphones and other devices.
With the exclusive YPAO automatic calibration system, the RX-479 and RX-V579 optimizes speaker output to create the best possible listening experiences. The RX-V679 has YPAO - Reflected Sound Control, while the RX-V779 offers YPAO - R.S.C. with multi point measurement that calibrates the listening area for superior sound at every seating position. The RX-V779 offers advanced features such as HDMI Zone B that supplies an additional HDMI audio and video feed to another room.
For more information: http://www.yamaha.com/
---