KEF introduced a wireless version of the LS50 loudspeaker.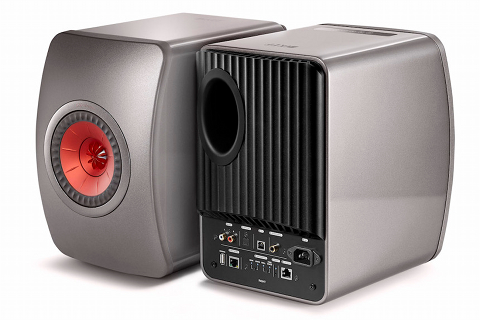 Source: Press Release, Last Accessed: 2016/10/18
Sharing the same winning acoustic features of KEF's renowned LS50, LS50 Wireless enables the user to easily enjoy excellent music reproduction, previously only achieved with a system comprised of separate high quality components.
The FEA-designed cabinet, Uni-Q driver, constrained layer damping bracing, precision-made curved baffle and elliptical flexible sound port, all part of the LS50 pedigree, are retained. According to KEF, these features prevent cabinet vibrations, enhance radiating sound, and reduce resonances and coloration. New additions include an end-to-end 192kHz/24-bit high-resolution digital signal path, two dedicated DACs per channel (4 DACs in total), a streaming preamplifier and factory-optimized amplification in a bi-amp dual-mono configuration (200+30 watts per speaker). Combined with a time-correcting DSP crossover, the already award-winning sound of Uni-Q is taken to the next level.
The LS50 Wireless offers a comprehensive range of connection options, including 2.4GHz/5Ghz Dual-band Wi-Fi, Bluetooth 4.0 with aptX codec, Asynchronous USB Type B input, Toslink Optical and RCA line-level analogue inputs. A dedicated app for LS50 Wireless, available on both iOS and Android, enhances the user experience during network setup, music streaming, playback, and control. The app also includes 3 user levels of customizable EQ settings for personal music preference.
KEF's unique advanced time correcting DSP crossover ensures perfect time alignment between low and high frequencies so that every note and frequency arrives to the listener at the same time. Pairing this with the Uni-Q driver technology, the result is sound dispersion unlike any you have ever experienced, the company says.
For more information: http://kef.com/
---