Oppo Digital unveiled the UDP-203 4K Ultra HD Blu-ray Disc Player.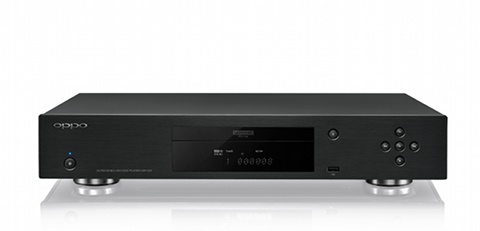 Source: Press Release, Last Accessed: 2016/12/12
Oppo announced that the new UDP-203 4K Ultra HD Blu-ray Disc player is ready for release. A successor to the award-winning BDP-103 series universal Blu-ray Disc player, the UDP-203 is the latest product released by the renowned manufacturer of high performance audio video products.
The UDP-203 supports the playback of 4K Ultra HD Blu-ray Discs and, also, supports High Dynamic Range (HDR) and Wide Color Gamut. A customized quad-core video decoder/processor integrates Oppo's advanced video decoding, processing and optimization expertise. A high-precision, well-balanced laser optical disc loader ensures smooth and reliable playback of all types of disc media. The player features two HDMI outputs -- an HDMI 2.0 port for connecting to the latest UHD TVs, projectors and A/V receivers, and an HDMI 1.4 audio port for connecting to older A/V receivers.
The design of the UDP-203 focuses on quality playback and universal compatibility with multiple disc and file formats. In addition to the latest UHD Blu-ray, the UDP-203 supports regular Blu-ray, Blu-ray 3D, DVD, DVD-Audio, SACD, and audio CD. The UDP-203 is equipped with two USB 3.0 ports on the back and another USB port on the front. Users can play video, music and photos from USB hard drives or thumb drives. Built-in 802.11ac Wi-Fi or Gigabit Ethernet connects the UDP-203 to users' home networks, so users can easily play media files stored on computers and home servers.
The player decodes audio file formats such as AIFF, WAV, ALAC, APE and FLAC. It also directly plays Direct-Stream Digital audio files in stereo DSD64/128 or multichannel DSD64. With internal decoding of Dolby TrueHD and DTS-HD Master Audio, and bit-stream output for object-based immersive audio formats such as Dolby Atmos and DTS:X, the UDP-203 delivers great sound for both movie soundtracks and music. Besides HDMI, audio is concurrently available through the 7.1-channel analog outputs, featuring "Velvet Sound" 32-bit premium digital-to-analog converters from AKM of Japan.
Leveraging hardware designed to support Dolby Vision, customers can expect a firmware update in early 2017 that brings Dolby Vision support to the player. Dolby Vision transforms the TV viewing experience by delivering striking highlights, brilliant colors, and deep blacks never before seen on standard television screens, and Oppo is committed to bringing this exciting technology to the UDP-203.
For more information: http://www.oppodigital.com/
---