Zesto Audio unveiled the Andros Téssera phono preamplifier.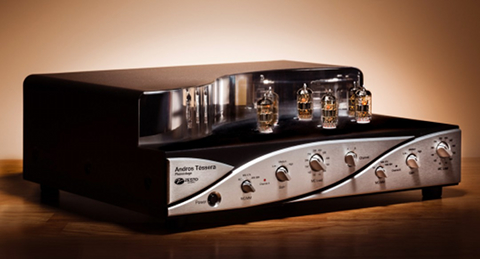 Source: Official Website, Last Accessed: 2016/09/28
Téssera means "4" in Greek. This newest product from Zesto Audio is their top-of the range phono preamplifier, a dual chassis, tube-only design which is aptly named as it is designed to work with up to 4 different tonearms or turntables, offering two fully adjustable MM/MC input stages.
George Counnas, President and Design Engineer for Zesto Audio says, "There are so many great specialized phono cartridges available today, I wanted to design a phono stage that was easy to use, while providing the necessary inputs to accommodate multiple tonearms and be able to save the settings when you switch between channels." Building on the success of Zesto's original Andros Phono stage, George wanted to take it further, not only sonically but with more features resulting in a quieter, fuller and more dynamic sound.
The Andros Téssera is built with a passion for analog, Zesto says, designed with 100% tube circuitry and no solid state devices anywhere in the signal path, while all the switching is done with reed relays. This phono stage has a new circuit design that is partnered with significantly upgraded larger MC step-up transformers to capture the most delicate signals in the grooves. The amplifier features true floating transformer balanced outputs, driven by dedicated output tubes.
Téssera includes two completely independent dual mono channels, with LED indicators for A and B selection and can accommodate 4 tonearms in total, with one MM and one MC cartridge per channel (for each MC input there is, also, a balanced connection). All settings are saved when you switch between channels. Mind, that a "channel" in Téssera terminology refers to a complete dual-mono phono input stage and not to the standard, left/right, audio channels. The amplifier uses a dual chassis architecture with external power supply and a 3 meter umbilical cable, incorporating special RFI suppression to provide lower noise levels.
Each channel offers a 12 position MC load selector (with 1000, 800, 700, 500, 400, 350, 300, 250, 200, 150, 100 and 50 Ohm positions) and allows "Load on the fly" selection without clicks or pops so that the user can hear any changes the different cartridge loading offfers. There is a 3-position switch offering a gain selection between 60dB, 65dB and 70dB for MC cartridges and 40dB, 45dB and 50dB for MMs. Ground lift switches are used on each channel to prevent noisy ground loops. All the RCA and XLR connectors are gold plated for better conductance and lower corrosion.
The all-tube circuit features four gold pin JJ ECC83S/12AX7 vacuum tubes with high quality gold pin ceramic sockets and two gold pin JJ ECC82/12AU7, the later used as drivers for the output transformers. The RIAA curve is achieved using a passive filter (not with a network in a feedback loop) and offers an accuracy of ± 0.5dB. Each unit is built by hand and Zesto offers a 50 hour factory burn-in on all circuits and vacuum tubes.
For more information: http://www.zestoaudio.com/