Aerix's Duet combo system strives to maximize both the visual and the auditory experience.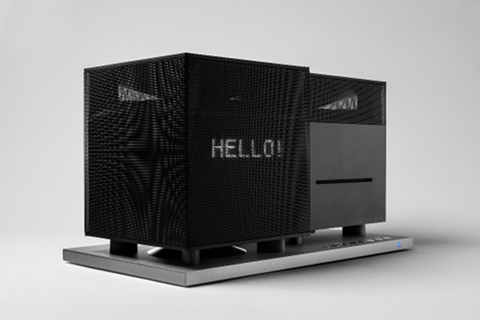 Source: Official website, Last Accessed: 2016/12/08
Duet's dual box design, with an aluminum plinth for vibration suppression and a quite distinctive Dot LED display, strives to maximize the visual and the auditory experience, offering both standard CD playback and high resolution audio streaming as well.
Duet is a compact system based on two cube-shaped pieces, one of which includes a standard slot-loading CD player. Duet's Dot LED increases the readability and legibility of the information displayed, and offers a distinctive appearance. A front-face installed illuminated logo shows the state of the system.
Duet contains a hi-end specification tweeter the company says, without giving any particular information. The tweeters are accompanied by a 360° horn shaped diffuser to offer an omnidirectional character. The architectural ideal Bell's curve creates a halo effect surrounding the unit and as a result, there is a wide listening area without a specific sweet spot. Wherever you go, the sound remains perfect, Aerix says. Low frequencies are reproduced through two powerful vertical-firing drivers which compress airwaves downward, towards an acoustically designed panel at the bottom of each unit, delivering sound evenly and consistently.
According to the details published, the system relies on advanced DSP, runs on Aerix's exclusive VIS technology, the latest in human auditory psychoacoustics, and includes three built-in modes: Relax, Standard (Aerix mode) or Party. Each setting is precisely engineered to deliver the most premium listening experience.
The most advanced DTS Play-Fi module allows Duet to wirelessly play almost anything the listener chooses to. Streams include the millions of internet radio choices, but Duet also integrates Spotify, Deezer, Pandora, Tidal, Songza and lots of high resolution music services. Other available sources include the standard CD player and Bluetooth streaming through any compatible PC, Notebook or smart device.
For more information: http://www.aerix.co/
---