AH-D7200: Denon announced new reference headphone.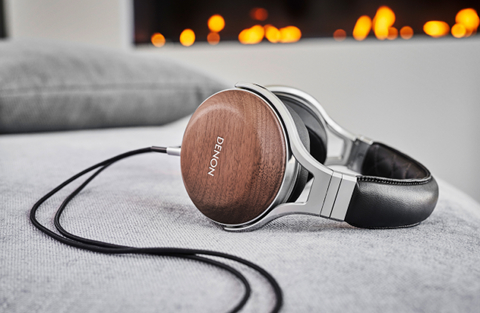 Source: Press Release, Last Accessed: 2016/12/14
Denon announced a new flagship over-ear headphone model, designed for the most demanding audiophile. With over half a century of experience in the design and development of headphones, the new AH-D7200 reference model combines innovative technologies and carefully selected materials for the finest in private listening, the company says.
According to the press release, behind the classic looks of the AH-D7200, just about every element is new; from the unique FreeEdge nano-fiber drive units to the shaping of the real walnut housings. Even the ear-cushions differ from established design thinking, using Japanese-developed soft synthetic leather covers chosen simply because they offer greater levels of comfort than the real thing.
At the heart of the AH-D7200 is the 50mm FreeEdge driver diaphragm, made from a nano-fiber material chosen for its rigidity and low mass. This delivers an accurate pistonic motion without distortion, and is also self-damping to cancel out unwanted resonances within the diaphragm. It's mounted in a soft, compliant surround, making it easier for it to move in response to the music signal without flexing or distorting, for the purest possible sound. The "motor" driving this diaphragm uses CCAW (copper coated aluminum wire) to keep the voice-coil as light as possible, plus extremely strong (more than 1 Tesla) neodymium magnets to increase the linearity and the speed of response.
The AH-D7200's drivers are mounted on vibration-reducing resin baffles, again reducing distortion. These are fitted into housings made from natural walnut, the dense wood being self-damping and shaped to reduce internal resonances and reflections. In addition, the use of walnut gives the headphones a warmer, more "speaker-like" sound.
Connecting the drivers to the amplifier powering the headphones is an ultra-high-quality, 7N (99.99999% pure) oxygen-free copper cable, made in Japan to Denon's specification, for the best possible signal transmission. It's terminated with a durable machine-cut metal plug with a copper trim-ring, and 7N copper is also used for the internal wiring of the headphones. A floating jack"' design is used for the connections between the cable and the headphone earcups, preventing the transmission of mechanical noise from the cable to the ears, while the detachable design means the user can experiment with aftermarket cables if required.
The earcups are suspended on ergonomically curved die cast aluminum hangers, while the headband is finished in real sheepskin leather. Within the ear-cushions, trimmed with an artificial leather chosen for its supreme softness and durability, memory foam allows the best fit to the user's ears. The whole design is engineered for maximum enjoyment over long listening sessions, featuring light weight (385g excluding cable) to a fit with side-pressure optimized for the widest possible range of head sizes and shapes.
For more information: http://www.denon.com/
---