Magico unveiled the Mk II version of their S3 floorstanding, 3-way loudspeaker.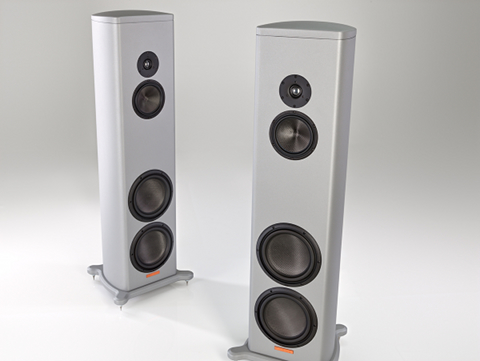 Source: Press Release, Last Accessed: 2016/12/08
Magico announced the new S3 Mk II, a model which nestles in between the S1 Mk II and S5 Mk II and features all of the advanced design elements of the S-Series Mk II models, including a new 9-inch bass driver with the lowest measured distortion born from the design and engineering theories applied to the limited edition, 10th Anniversary M-Project.
According to the press release, the S3 Mk II's superlative high frequencies are provided by a 1-inch Magico diamond-coated beryllium-diaphragm tweeter that offers matching sensitivity, wide dispersion, and increased power handling over the original S-series tweeter. A new aluminum housing for the magnet structure minimizes overall resonance and improves the isolation parameters for the tweeter dome element. The long-throw voice coil enables lower distortion and optimal cutoff frequencies that enhance driver integration with the midrange driver. Midrange reproduction is attained from a proprietary 6-inch driver that also sets a new benchmark for measured performance, Magico says. The cone material is formulated using Multi-Wall carbon fiber and a layer of XG Nanographene, which when combined is 20% lighter and 300% stiffer than the previous S-series cone designs. The purpose-built sub-enclosure is made of a proprietary polymer material which provides an isolated and optimized environment for the midrange driver to operate within.
Lower frequencies are reproduced through two newly designed 9-inch Magico bass drivers that are produced with advanced manufacturing techniques, using the same new Multi-Wall carbon, Nanographene cone. The powerful magnet structure controls a 5-inch pure Titanium voice coil that has a 1/2-inch of linear excursion and produces clean, undistorted sound pressure levels up to 112dB/50Hz/1-meter, the company says.
The monocoque enclosure of the S3 Mk II is formed from a single piece of extruded aluminum that is 3/8-inch thick and 12-inches in diameter. The new aluminum top plate is machined into an elegant 3D convex shape to minimize enclosure diffraction and break-up vertical standing waves. A massive base plate incorporates a newly designed 4-point outrigger support system that lowers the speaker's center of gravity and increases overall stability, resulting in a lower noise floor and increased dynamic range.
All four drivers in the S3 Mk II are acoustically integrated using Magico's exclusive Elliptical Symmetry Crossover topology that utilizes state-of-the-art components from Mundorf of Germany. The dividing network maximizes frequency bandwidth while preserving phase linearity and minimizing intermodulation distortion.
The S3 Mk II is available in two separate finishes: M-Cast (textured satin coat) and M-Coat (smooth high-gloss paint).
For more information: http://www.magico.net/
---