PHONO PREAMPLIFIER
Thoeress Phono Equalizer/Enhancer.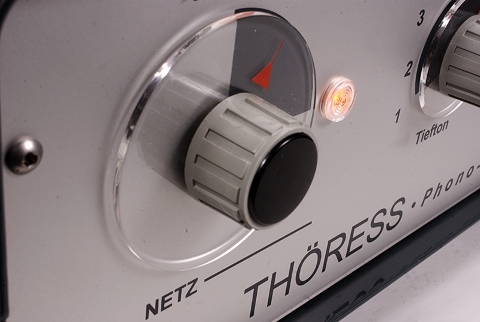 Thoeress Phono Equalizer/Enhancer.
Specifications (according to published data)
Description:
Phono preamplifier/adjustable equalizer.
Inputs:
6x, in five different versions. MC inputs with adjustable loading (50-500 Ohm), MM Inputs/MC High out. inputs in 47k Ohm.
Outputs:
3x, single ended (RCA).
Tubes:
2xPC86, 2x12SN7GT, 1x PCC88, NOS (Siemens, RCA).
Other options:
Set the gain/slope of the de-emphasis curve at three points. Six steps/point, including an RIAA-compatible position.
Thoeress Phono Equalizer/Enhancer.
Price & General Information
Price (€)
8.400,- (*)
Sample source
MF Audio, tel.: 0030-210-724.4147
Sample source URL
http://www.mfaudio.gr/
More Information
http://www.thoeress.com/
(*) Please note that this price is for the local market where our review sample source provide their services. For a price specific to your location, consult your local dealer.
Previous | Back to Intro | More Reviews
---