FLOORSTANDING LOUDSPEAKER
Rois Acoustics Emphasis 314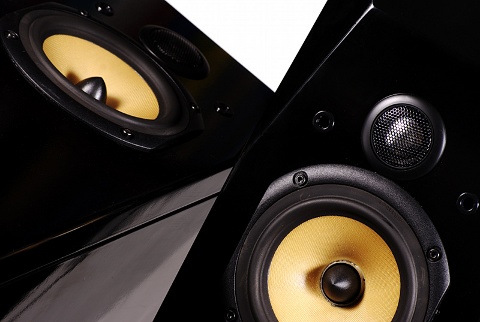 Emphasis 314 is a floorstanding loudspeaker with a height of just over a meter (1030mm) and interesting aesthetics, mainly thanks to its slightly tilted cabin. Apart from the positive visual impression, the company says that this inclination also offers a means for a better time alignment between the drivers. The multi-faceted form of the front baffle around the midrange and tweeter areas offer a better control over the edge diffraction and differentiates the 314 from the standard quadrilateral looking form. The loudspeaker is available in two finish versions, the glossy black shown in the photographs accompanying this review and the satin black (with a lower price tag).
The loudspeaker is a three-way design, featuring two 180mm woofers with laminated carbon fiber cone, a 140mm fiberglass cone midrange and a neodymium tweeter with a 25mm aluminum dome. The midrange driver features a composite material chassis and a phase plug, while its diaphragm is coated for better damping properties.
Woofers are typically loaded through dual bass reflex ports, both located on the back but their position in the front baffle is not what one would call conventional and probably needs some explanation. Rois Acoustics calls this specific placement HSBR (as for "Half Space Bass Radiator") to describe an attempt to locate the woofers in a small distance from the floor. This approach enhances the loudspeaker performance in the low frequency band -in a predictable way- and the company says that the final result could be easily compared with larger loudspeakers in this respect.
The midrange driver is loaded through a separate cylindrical chamber that remains open in the back so that the rear radiation is absorbed by a special, dense material that has been placed there, thus minimizing and destructive reflections. Rois Acoustics calls this approach ZRL (Zero Reflection Loading) and states that it offers lower coloration and a better stereo imaging compared with conventional loading through a separate but air-tight chamber.
According to the published specs, the crossover filter is a first order design that includes good quality parts, like air core inductors and plastic film capacitors. Binding posts are of typically good quality and, also, support bi-wiring.
Loudspeaker cabinet is made with MDF with a baffle thickness of 32mm. The construction includes some heavy bracing to increase the rigidity and to minimize any standing waves generated. The loudspeaker features two cones placed in front of a plinth, to give support and to determine its slight backwards inclination.
---