D/A CONVERTER - PREAMPLIFIER - HEADPHONE AMPLIFIER
Mytek Manhattan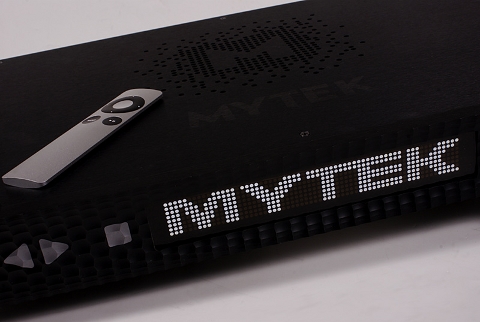 In terms of its external appearance, as already mentioned, the Manhattan has made several steps in relation to the rather spartan 192DSD. While aesthetics is a subjective issue, of course, choices made by Mytek, including a low height but otherwise hefty enclosure, a large screen and an easy to use interface, should be considered as positive design aspects. Positive, in my opinion, is also the choice of the embossed finishing on the front and side panels and the positioning of a large logo on the top. The overall result is unique and stylish. The possibility to use spike-like support points and the thin, well-designed Apple remote control are also notable add-ons to the whole package. What is certain, is that Manhattan can be comfortably exposed to full view in any aesthetically sophisticated home environment. Additionally, the user can choose between two colors, black (the color of this review sample) and silver.
Connectivity features are, in fact, probably more than the average home user needs. In terms of conventional digital inputs, there is a selection of coaxial (with RCA connector), optical and AES/EBU inputs and there is also the possibility to use devices with SDIF/DSD (double BNC) output. File streaming can be accomplished either via Firewire or USB (both 1.1 and 2.0 are supported, through separate ports). The converter supports digital signals up to 32bit/384kHz, and DXD for the PCM format, and up to DSD256 for the DSD format through the USB 2.0 port. Depending on the capacity of the relevant standard, Manhattan also supports streams up to 24/96 through USB 1.1 to 24/192 over the other conventional digital inputs and, also, supports DSD128 through Firewire. The user is additionally able to up-sample all PCM signals to 24/192.
Manhattan offers two sets of analog outputs, a single-ended (RCA) and a balanced (XLR) pair, the level of which can be set either in analog or in the digital domain (a choice made through the menu). The level control circuit can be, also, bypassed completely, if the user chooses so. Those who want to use the device as a preamplifier can use the three line inputs provided (two single-ended and one balanced) or even use the special module that Mytek offers to convert one of the single ended inputs to a phono cartridge compatible preamp. To connect a headphone set, there are two standard 1/4-inch TSR jack outputs located on the front panel. A wordclock input/output BNC pair is also included to enable connection to a centrally distributed clock signal.
Inside the device, one encounters a disciplined and of high-quality PCB, apparently without any excessive design solutions or extravagant component choices. In general, Mytek admittedly has preserved the 192DSD architecture, which is justified, of course, by the performance of this model. The digital part is built around two FPGAs (from Altera and Xilinx) and an asynchronous sample rate converter (AD1896 from Analog Devices). As a front end, for the management of digital input signals, three different interfaces are used. A TAS1020 from Texas Instrument for the USB 1.1 port, a Cypress CY7C68013 for USB 2.0 and a pair of chips from Dice and Texas (TCD2210/TSB42) for the Firewire port.
As a D/A conversion chip, Mytek has retained the ES9016S Sabre from ESS. This is an eight channel component of which the available channels are connected in a parallel/balanced topology to improve linearity. The analog output stage is a part of the device for which the company does not give many details. Optically, at least, it appears to be quite similar in structure to the 192DSD circuit. Manhattan also includes a headphone amplifier with a dual mono architecture, and the capacity to provide 1600mA through an output impedance of 0.25 Ohm. This appears to be more than enough to drive any headphone set with reasonable impedance and allows Mytek to offer two outputs (through 1/4-inch TSRs, as already mentioned) with opposed electrical phase and separately adjustable level.
Points, where major differences appear in comparison with the 192DSD do exist however and are focused on the clock circuit and in the power supply. Clocking features Mytek's Femto Clock technology (used in their series of professional equipment) and induces very low jitter (below 1pS, the company says), forming the basis for a device with very good performance in this context. The power supply includes two separate circuits (with separate transformers), one for the digital and one for the analog part of the device.
Previous | Next | More Reviews