Benchmark announced the availabitlity of the AHB2 power amplifier, starting July.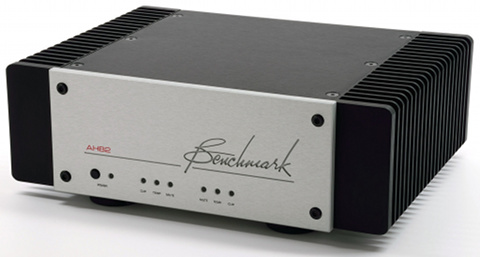 Source: Benchmark website, Last Accessed: 2014/07/08
The AHB2 realizes Benchmark's goal to build a power amplifier that could deliver the full performance of their flagship DAC2 converters, and today's finest high-resolution recordings. Being their first power amp, it will be available this summer, starting July. The AHB2 power amplifier is named in honor of Benchmark's founder, Allen H. Burdick. Allen had a life-long passion for audio, and became one of the leading innovators in the pro-audio industry.
According to Benchmark's published details, the amplifier offers a significant departure from traditional designs. Two new patented feed-forward error-correction technologies eliminate most sources of distortion. An unconventional power supply maintains tight regulation and low ripple while minimizing magnetic fields. A low-gain topology optimizes the gain staging between the D/A converter and the power amplifier while minimizing noise. Sophisticated shielding and star-quad signal distribution provide outstanding immunity to interference.
The dynamic range of the AHB2 approaches 130 dB, making it 10 to 30 dB quieter than the typical reference-quality power amplifier, while frequency response extends beyond 200 kHz, to deliver the ultrasonic detail and fast transients captured by high-resolution recordings. At the other end of the audio spectrum, the low-frequency response extends below 0.1 Hz. The extended frequency response delivers a nearly perfect impulse response, and a nearly perfect phase response. The AHB2 has a high damping factor that augments its extended low-end to deliver solid, well-controlled bass.
The switching power supply used in the AHB2 is zero-voltage switching resonant power converter. This means that the power devices in the supply switch at zero voltage and (zero current) - eliminating the large switching transients produced by conventional switching power supplies. The power supply in the AHB2 is actually much cleaner and quieter than a conventional linear supply. The power supply in the AHB2 switches at frequencies that are well above audible frequencies. Mechanical hum is eliminated while magnetic field strength is significantly reduced. For a given amount of power, magnetic field strength decreases as switching frequency increases. High-frequency magnetic components are also much smaller than line-frequency magnetic components. The supply is well over 90% efficient, and very little power is lost to heat.
The bi-polar output stage delivers 100W/170W per channel in 8/4 Ohm loads with high output current and low noise. Benchmark tried to combine the best characteristics of class AB and class A amplification to create an amplifier that outperforms both of these traditional designs. Two new technologies that address crossover distortion are incorporated into the new AHB2 design.
These patented technologies virtually eliminate crossover distortion while offering opportunities to improve efficiency, damping factor, and dynamic range. The patented technology solves the crossover problem by combining a plurality of output stages such that one stage drives the output while another stage enters a crossover region.
Distortion performance exceeds that of class A amplifiers, while the efficiency exceeds that of traditional class AB amplifiers. Low-level details and reverb tails are rendered with a stunning resolution.
For more information: http://benchmarkmedia.com/
---