Top Stories

The Discrete DAC is MSB's smallest D/A converter, but that doesn't mean many things on absolute terms. What we are dealing with here is a design based on their custom conversion approach, featuring a top-quality construction and, in our DUT configuration, is accompanied by a smart USB line isolation system. This is digital audio at its best!

The pair of devices we review here are far more than just a sign of our times, which constantly require better systems for audio reproduction through headphones. It is a case study on how modern devices should be designed when aiming for the best possible value-for-money performance.

In our first contact with a new manufacturer from Greece, we've had the opportunity to review a power amplifier that stands out, not only with its build quality but with its architecture and ideas behind it. In the field of high-performance audio, there is nothing more attractive than some out-of-the-box ideas!
---
News & Industry Update

The well -known manufacturer recently announced two new products in its wireless range. Active Prime Wireless Pro and Soundbase integrated amplifier belong to SVS's second generation of wireless smart speakers and wireless amplifiers.

Pro-Ject introduced a system-package for the music lover on a budget who doesn't want to sacrifice style or skimp on the listening experience.

Audio-Technica announced the introduction of their 60th Anniversary AT-LP2022 manual belt-drive turntable, a limited-edition record player that celebrates A-T's 60 years of excellence in high-performance analog audio.

As the end of 2022 approaches – 40 years after the launch of the 8000A – it is the right time for Audiolab to reveal their next generation of amplifier. The 9000A is the first component in a new flagship range, the 9000 Series.

Schiit announced the Yggdrasil+, its flagship true multibit DAC, featuring a choice of D/A converter options, remote control, NOS mode, phase inversion and the peace of mind of a fully modular platform that is ready for the future.
Following their successful Concerto, the smaller Concertino offers, at an extremely attractive price point, all the know-how behind the liveliness and freshness of the bigger loudspeaker in smaller proportions – both sonically and physically.

The Uno, by iFi, is a first-rung audio product – a DAC/headphone amp for people who may not know what a DAC is, but know they want better sound quality when they listen to music, stream movies and TV shows, play games and enjoy other forms of audio and AV content, from Apple Music and Tidal to YouTube.

The SourcePoint 10 is designed like a cost-no-object loudspeaker, a complete from the ground up approach, to deliver the highest sound quality and value and in its heart lies the innovative Twin-Drive high-flux neodymium magnet system by Andrew Jones.
---
Equipment Reviews...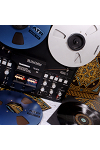 Comparatively listening to the Naxatras III audiophile vinyl cut and the tape directly transferred from the master, as edited by engineer Jesus Agnew and Magnetic Fidelity, leads to the appreciation of the analog sound values, when the process is, indeed, impeccable. But, at the same time, the prerequisites are far from simple, both in the recording/transfer and the playback chain. For us, this was a research project that, probably, took too long but it was worth every minute spent!

SCM19, ATC's entry level "Hi-Fi" series top stand-mount model, proved to be one of the best compact loudspeakers you can buy in this price range, especially if what you are looking for is some real high fidelity behavior. How did they manage this? Read the review to find out…