A 2: Beyerdynamic's new headphone amp.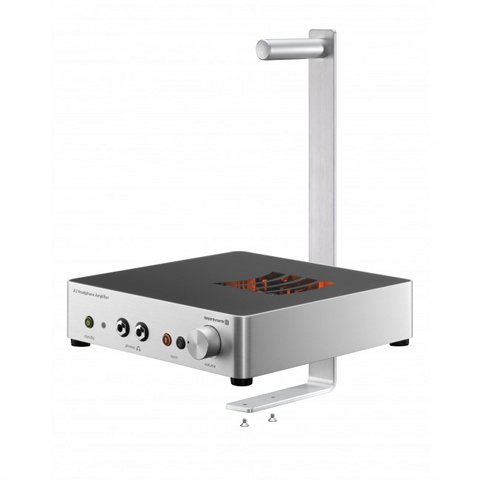 Source: Press Release, Last Accessed: 2014/04/08
Moving a step forward, and after the announcement of the smaller amps Α 20 and A 200 p, Beyerdynamic introduced their top-of-the-range A 2 headphone amp. According to the press release, the new amplifier was re-developed from scratch so as to be able to uncompromisingly achieve the highest sound quality using dynamic headphones of all types. To achieve this, instead of using an integrated circuit, the audio specialists from Heilbronn have equipped the A 2 with a manually assembled motherboard with durable, discrete components. This design with ample space between the key components prevents internal interference and leads to better separation of channels with minimal crosstalk. A generously dimensioned toroidal transformer ensures stable power supply free of disturbances from mains voltage fluctuations.
As a unique highlight, the A 2 provides separate adjustments for the impedance and sensitivity of the connected headphones, making it currently the only device on the market with this feature. Slide switches located on the underside allow you to set the output impedance according to the impedance of the headphones used. An additional gain switch is used to adjust the level of the connected source and of the headphones, which means that you can always set the volume over a wide and practical range using the level control at the front.
For setting the volume, the A 2 has an Alps potentiometer with high channel synchronization. An additional motor on the potentiometer allows you to sensitively and continuously adjust the volume using the supplied infrared remote control, which comes in a handy-to-use aluminum housing. The A 2 does not include a digital interface and is therefore aimed specifically at music fans who already have a high-quality DAC or who purposefully do not want one so as to achieve a purely analogue signal chain.
Two stereo cinch inputs are available for connecting sources and looped-through analogue high-level output allows you to easily integrate the A 2 into an existing HiFi system. Two long-life 6.35 mm (0.25-inch) Neutrik jack sockets are available on the front for connecting headphones.
Each A2 comes with a stable headphone stand made of aluminium, which can be attached to the underside. The amp will be available for purchase from select retailers and at Beyerdynamic's e-shop at a retail price of €1,490/$1,999.
For more information: http://europe.beyerdynamic.com/
---