BlueTube Audio announced the launch of BT-6 vacuum tube amplifier.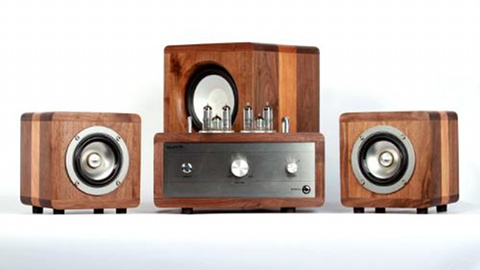 Source: Press Release, Last Accessed: 2014/06/19
The BT-6 is a vacuum tube amplifier hand crafted in a walnut/cherry hardwood enclosure reminiscent of craftsmanship from 60 years ago, but also features Bluetooth technology and it is constructed out of all natural materials. The company is currently funding the whole project through the popular crowd sourcing site IndieGoGo.
The retro feel of the exposed tubes distinguish a tube amplifier from any other type of audio player. When the lights are turned down, the tubes themselves produce a warm glow that makes this sound-system stand out. "In designing the case we wanted an enclosure that was functional and simply looked awesome." said Ben, the master craftsman. He selects by hand 3/4-inch cherry and walnut lumber, laminates them together and hand sands each board. After constructing the enclosures, everything is hand-rubbed with linseed oil and finished off with 3 coats of wood wax that is then buffed to a smooth and durable finish.
The Bluetooth part is a Class2 16-bit A2DP stereo compliant receiver and features "voice setup" with a female voice that will verbally walk users through the pairing setup. This system works with any iPhone, Android or MP3 player that offers Bluetooth connectivity.
The tube amplifier is a Class A push-pull design that delivers 8W/channel and features two analog inputs, one through a mini-jack and one through RCA connectors. There is, also, a USB port to charge portable media players/smart phones.
The optional speakers have matching walnut/cherry cases that incorporate 4-inch full range titanium cone speakers with a frequency range between 70Hz and 20kHz. For extended lows, there is the option of a 6.5-inch sub. Pre-ordering is open in IndieGoGo site.
For more information: BT-6 IndieGoGo page, http://www.bluetubeaudio.com/
---