Bose introduced CineMate 15 home theater loudspeaker system and Solo 15 TV sound system.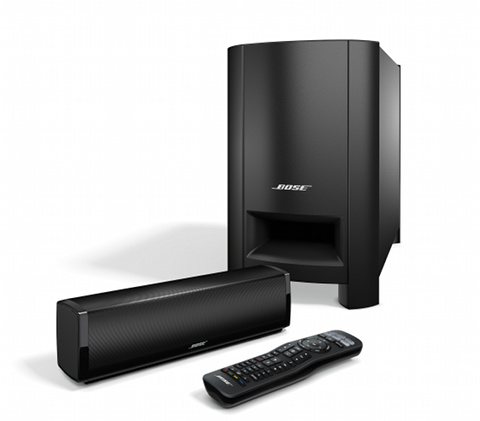 Source: Press Release, Last Accessed: 2014/09/15
Bose recently introduced two home entertainment products that combine performance and simplicity. The CineMate 15 home theater loudspeaker system and Bose Solo 15 TV sound system are up and running quickly, easy to use, and deliver sound for everything on TV, from network shows to music, movies, sporting events and video games.
The CineMate 15 home theater system is Bose's simplest home theater solution, combining a compact soundbar with an Acoustimass module. The Solo 15 system is the best pedestal TV loudspeaker from Bose, offering improved audio performance over its predecessor -the popular Bose Solo speaker- with a bigger footprint to suit today's larger-size TVs.
Both products use the company's proprietary TrueSpace technology to deliver immersive sound as wide as the room. According to Bose, they are capable to reproduce the nuances typically missed when listening through TV speakers or conventional soundbar systems, clear dialogue, carefully placed sound effects and swelling soundtracks. The soundbar measures just 12 inches wide, 2.75 inches deep and 3.25 inches high, so it can be placed inconspicuously in front of a television. It connects to the TV with just one included cable, and features four proprietary drivers in a new configuration, two positioned in front and one on each side, all housed behind a sleek metal grille. The Acoustimass module includes a bass control knob to customize the low-frequency performance to one's liking, and connects to the soundbar with a 3m/9ft cable for placement flexibility. CineMate 15 is operated with a new, easily programmable universal remote that controls the sound system and other common devices like an HDTV, cable box, Blu-ray Disc™ or DVD player.
Bose Solo 15 TV sound system, measuring 24.75x14x3 inches (wxdxh), fits under most televisions with screen sizes of up to 50-inch. It features five drivers, with a center channel for improved dialogue intelligibility for programs like talk shows and news. Digital signal processing technology adjusts and optimizes the sound at any listening level. It needs just one connection -- from the speaker to the TV. Like the CineMate 15 system, it features a bass control knob on the enclosure, and comes with a programmable universal remote to control the system and all connected devices.
For more information: http://www.bose.com/
---