Bose introduced QuietComfort 25 Acoustic Noise Canceling headphones.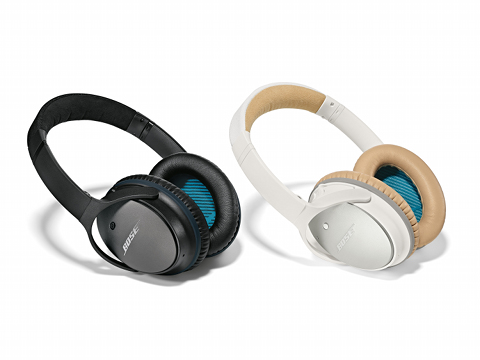 Source: Press Release, Last Accessed: 2014/09/03
The next generation of QuietComfort headphones, the new QuietComfort 25, feature an entirely new design, combining better noise reduction and audio performance with a stunning new look and greater portability. They replace the legendary QC15.
According to the press release, the QuietComfort 25 headphones benefit from over 30 years of ongoing research, canceling more noise than any other Bose consumer headphone in history, especially at low frequencies. Bose engineers placed microphones both inside and outside the earcup to better sense and measure unwanted sounds. The measurements are then sent to a digital electronic chip, exclusive to Bose, that calculates a more precise equal and opposite noise cancellation signal -- within a fraction of a millisecond. The Bose chip reduces the footprint of the headphone's electronics, while delivering a new level of quiet for around-ear headphones. Distractions instantly fade away, even in the most demanding environments.
The QuietComfort 25 headphones feature a more finely tuned Active EQ for smoother frequency response and TriPort technology to deliver deep, detailed low notes, while a lower noise floor reduces the common "hiss" associated with conventional active noise canceling headphones.
The QuietComfort 25 headphones come with a single AAA battery for up to 35 hours of use. If the battery dies, the headphones are still usable to just listen to the music (without the noise canceling). An inline remote and mic make it easy to take calls with select iPod, iPhone and iPad models, and select smartphones.
The Bose QuietComfort 25 headphones come in two variants: Black or White, each with blue accents. They're available for $299.95 beginning September 3, 2014, and will be sold at Bose retail stores, Bose.com and, authorized Bose dealers.
For more information: http://www.bose.com/
---