Small speaker, big sound: Bowers&Wilkins introduced the T7 portable loudspeaker.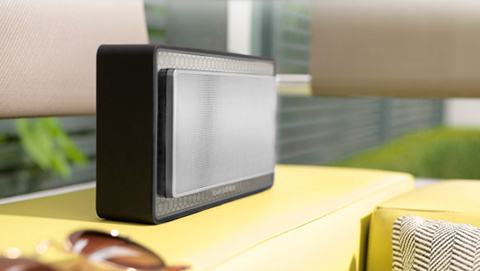 Source: Official Blog post, Last Accessed: 2014/10/24
The most portable standalone speaker Bowers amp;Wilkins has ever produced claims top sound quality from a small footprint. How? Through their sensible use of engineering of course…
The first thing you will notice about the tiny T7 Bluetooth wireless speaker is its use of unique, Bowers&Wilkins Micro Matrix interlocking panels. This three-dimensional honeycomb structure surrounds the powerful bass drivers so, no matter how hard they try to shake and rattle the cabinet, sound from the T7 stays composed and clear.
Micro Matrix panels were originally conceived and designed for an in-car entertainment system showcased in the Jaguar CX-F concept car, based on the Matrix bracing found in the company's high-end loudspeakers. According to B&W, Micro Matrix is particularly vital given the strength of bass response T7 delivers. That's because it features two 50mm drivers made from glass fiber, the same material used in their much larger Wireless Music Systems and because surround, voice coil and other components are all uniquely designed to maximize performance at the low end, traditionally a weak area for portable wireless speakers this size.
To further extend the bass capabilities of T7, two bass radiators tuned to 66Hz are built in. These radiators, designed uniquely for T7, use a metal and rubber sandwich construction for damping and a super-slim surround that allows lots of movement in a small space. The result is deeper, better bass without increasing cabinet size, the company says.
Of course, as you would expect from Bowers&Wilkins, mid and high-end frequencies are equally well cared for. From a dustcap carefully tuned specifically to ensure high-note clarity, to the two Class D amplifiers and the high-end digital-to-analogue convertors, every component in T7 is carefully selected to deliver amazing sound quality, without adding size.
T7 is perfectly sized for bedrooms, kitchens and gardens and the user can stream audio directly from any Bluetooth-enabled PC, tablet or mobile phone, without the need for a Wi-Fi network. T7 uses high quality Bluetooth aptX for high-resolution audio files streaming.
T7's controls are designed to be as easy to use as possible. The loudspeaker keeps buttons to a minimum, while an array of simple light signals and audio cues conveys basic functions quickly and intuitively. Fully charged, T7 offers 18 hours of playback.
For more information: http://www.bowers-wilkins.com/
---