Denon revealed Auro-3D upgrade offer for Premium AV Receivers.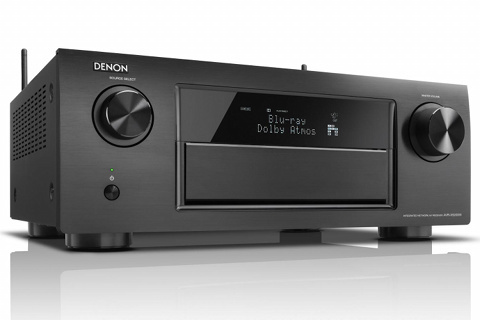 Source: Press Release, Last Accessed: 2014/10/16
Denon announced a unique upgrade offer to bring three-dimensional audio format Auro-3D to their recently introduced Premium AV Receivers. Expected to be available in December, a firmware upgrade (a fee is charged) will further enhance the feature set of the highly-acclaimed AVR-X5200W and the AVR-X4100W models, to carry the next generation sound format.
By fully immersing the listener in a cocoon of life-like sound, Auro-3D creates the sensation of actually "being there". Thanks to a unique configuration of height channels, acoustic reflections are generated and heard naturally due to the fact that sounds originate from around as well as above the listener. Depending on the size of the room, either 1 or 2 additional layers (Height and Top – a.k.a. "Voice of God" channel) with speakers are mounted above the existing Surround layer at ear-level to produce Auro-3D's defining 'vertical stereo field'. The height information, captured in recording or created during the mixing process, is mixed into a standard 5.1 PCM stream that comes with a regular Blu-ray or through online streaming. A Denon AVR containing the Auro-Codec Decoder is capable of decoding the original Auro-3D mix.
"We are proud that our customers will be able to upgrade their AV receivers to incorporate Auro-3D as an additional feature", said Yoshinori Yamada, Global Business Team Leader Audio and Video at D+M Group, adding that "it proves our constant ambition to offer brand new technologies to existing products, adding value for the proud owner."
"We are delighted to join forces with Denon, bringing Auro-3D within the reach of a broad customer base", said Wilfried Van Baelen, founder and CEO of Galaxy Studios and Auro Technologies. "Upgrading your Denon receiver and adding the Auro-3D Height speakers will create an unrivaled natural-sounding immersive experience, with High Resolution Audio in each channel. Thanks to our Auro-Matic algorithm, even regular stereo sources will be upmixed into an incredible surround sound experience making use of the full Auro speaker setup."
The upgrade service can easily be done by every AVR-X5200W or AVR-X4100W owner at home through the receiver's built-in online feature upgrade function. For more details go to the official Denon website.
For more information: http://www.denon.com/
---