Denon unveiled New AV Receivers for Dolby Atmos Sound.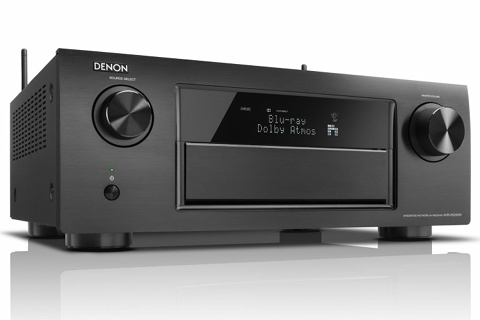 Source: Press Release, Last Accessed: 2014/06/23
Denon announced its newest line of AVR's developed to deliver captivating, multi-dimensional sound with Dolby Atmos. Expected to be available in September, the AVR-X4100W and the AVR-X5200W models will be the first Denon AVRs to feature the new object oriented surround sound technology from Dolby.
With Dolby Atmos, sound comes alive from all directions, including overhead, to fill the home theater with astonishing clarity, power, detail, and depth.
"It is a testament to the unique sound experience Dolby Atmos delivers that some of the world's leading filmmakers have embraced it as a storytelling tool," said Yoshinori Yamada, Global Business Team Leader for Denon Audio and Video Products. "Every detail comes alive, making the audience feel as if they are in the middle of the movie action. The experience is unmatched in the home theater today."
All Dolby Atmos compatible Denon receivers will have the processing power to run a more enveloping, Audyssey MultEQ XT32 calibrated 9 channel Dolby Atmos layout using 5.1.4 or 7.1.2 configurations utilizing ceiling mounted, or Dolby Atmos-enabled speakers. A 5.1.4 speaker configuration is based upon a traditional 5.1 speaker layout complemented by 4 overhead or Dolby Atmos-enabled speakers. A 7.1.2 configuration is based on a 7.1 speaker layout with 2 overhead, or Dolby Atmos-enabled speakers.
The AVR-X5200W will have the processing capability to support a full 11 channel Dolby Atmos setup; taking advantage of 7.1.4 Dolby Atmos configurations. A 7.1.4 speaker configuration is based upon a traditional 7.1 speaker layout complemented by 4 overhead, or Dolby Atmos-enabled speakers.
A Dolby Atmos soundtrack starts with a base layer that consists largely of static ambient sounds, mixed using the familiar channel-based method. Layered on top of these are dynamic audio elements that can be positioned and moved precisely to correspond to the images onscreen. Metadata records how these elements should behave during playback—behavior that best matches the director's intent, regardless of theatre configuration. This dual-layer approach gives film creators greater power and freedom while ensuring you have a consistent experience in any theatre.
Dolby explains that Atmos is the first home theater system that is based not on channels, but on audio objects. Any sound heard in a movie scene is an audio object and filmmakers using this technology can decide exactly where those sounds should originate and precisely where they move as the scene develops.
Thinking about sound in this way eliminates many of the limitations of channel-based audio. According to Dolby, in a channel-based system, filmmakers have to think about the loudspeaker setup, while with Atmos they just have to think about the story as the system itself has the intelligence to determine what loudspeakers to use to precisely recreate any sound scene in the way originally intended. Dolby Atmos is also far more flexible and adaptable than channel-based home theater. In the later, the number of loudspeakers is fixed but with Atmos, in contrast, you have the flexibility to get a full experience with just seven loudspeakers or get an even richer, more detailed sound by adding more of them.
For more information: http://www.denon.com/
---