DA-10: A new, versatile DAC from Denon.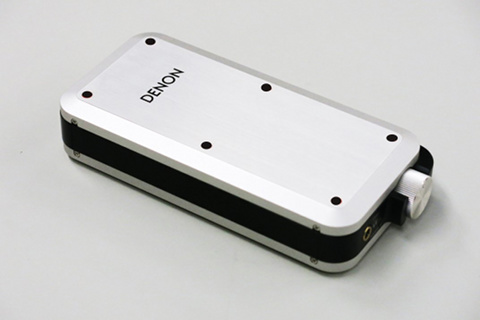 Source: D+M Conference, 2014
During the D+M Dealer Conference, Denon announced a new d/a converter, along their DA-300USB, with a compact design, capable for both on-the-go and home use. A Burr-Brown DAC chip, Denon's Advanced AL32 processing and asynchronous USB streaming are among the most interesting details…
DA10's aluminum finished case, just 1-inch thick, and with width and depth dimensions similar to those of a smartphone, allows the user to carry the converter along with his laptop, to be used as an in-situ desktop audio system. Moreover, the unit contains a rechargeable battery too, offering about 8 hours of playback between charges.
The user interface is quite simple, including just a volume control knob, two USB ports (a Type A, to connect to Apple or other media devices and a Type B to connect to a computer host) plus two 3.5mm mini-jack analog outputs one for headphones and one for connecting the DA10 to a line level input (for home use).
The converter features the Advanced AL32 processing, a Denon's proprietary digital algorithm for upsampling and adaptive digital filtering, and a PCM1795 chip (from Burr-Brown) to convert digital signals to analog, while sample rate support goes up to 24bit/192kHz for PCM streams and up to 5.6MHz (DSD128) for DSD streams. There is, also, a high precision master clock to reduce jitter and a separate gain control to optimize the headphone output to different loads.
DA-10 will be available On November, for about € 330,-.
For more information: http://www.denon.com/
---