Denon launched two new components to their HEOS wireless multi-room sound ecosystem.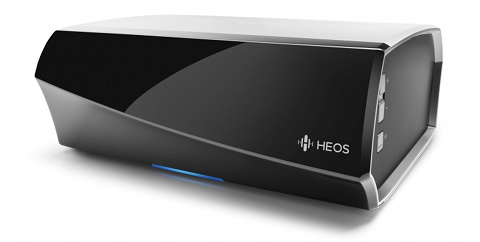 Source: Press Release, Last Accessed: 2014/08/14
The HEOS Link adds HEOS multi-room audio functionality to existing audio systems or powered speakers; the HEOS Amp brings HEOS functionality to any existing pair of loudspeakers. These are the first additions to the HEOS line since initial launching with three loudspeakers: HEOS 3, HEOS 5 and HEOS 7.
The HEOS Link allows users to integrate any existing music system into the HEOS ecosystem by bringing any existing audio products (with an input jack) that users already own into the HEOS multi-room sound system. Users simply connect the high-quality Link stereo pre-amplifier via an analog, digital coaxial or fiber-optic cable to turn any existing home cinema or music system into a wireless HEOS audio zone. What's more, the Link lets users control select Denon receivers, integrated amplifiers or mini-systems via the HEOS App.
The HEOS Amp is designed to add HEOS multi-room audio functionality to any pair of stereo loudspeakers—perfect for outdoor, in-ceiling, floorstanding or bookshelf models—and features the same wireless ease-of-use as Denon's HEOS speaker models. Incorporating an 100W Class D digital amplifier in a sleek compact chassis, the HEOS Amp delivers low distortion and high current capability.
HEOS brings Denon-quality audio to any—or all—rooms in the home. The system delivers users' favorite music from the world's leading online music services, smart devices, as well as PCs, Macs or NAS drives on any home network. The whole HEOS system can simply be controlled by a HEOS App, available for Apple and Android devices.
Besides the HEOS Link and Amp, the HEOS by Denon product line includes three stunning, wireless multi-zone music players: HEOS 3, HEOS 5, and HEOS 7. Easily connect to an existing Wi-Fi network to bring high-quality audio (MP3, WMA, AAC, FLAC and WAF files up to a 48kHz sampling rate, with low inter-channel latency, according to Denon) to any -or all- rooms. The system delivers a user's favorite music from the world's leading online music services including top cloud sources, legacy sources, and any smart device, to the room users want to hear the music they enjoy. In addition to the players, the HEOS Extend is an optional access point range extender and is available separately to improve or expand the user's existing home wireless network.
For more information: http://heosbydenon.denon.com/
---