Ensemble: Devialet announced their first ever complete audio system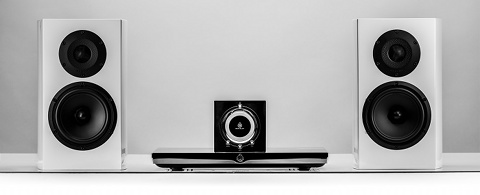 Source: Corporate Website, Last Accessed: 2014/06/10
Just a few weeks after the announcement of SAM, a technology to compensate for the individual loudspeaker characteristics, Devialet published some details for a complete system that includes an integrated amplifier (running SAM) and a pair of loudspeakers.
The system consists of a Devialet 120 integrated amplifier, two Atohm GT1 Special Edition loudspeakers and the cables needed to connect them.
The amplifier supports Devialet's SAM technology, adapting the signal to the characteristics of the loudspeaker. Using a specific driver integrated into the amplifier's processor, SAM deduces in real time the exact signal that has to be transmitted to the loudspeaker to precisely reproduce the recorded acoustic pressure. The 120 model delivers 120W/ch based on Devialet's ADH amplifier technology, includes a DAC supporting up to 24bit/192kHz sample rates, a phono stage and is fully-configurable. Wireless streaming is also possible through the Devialet Air universal streamer.
The loudspeaker included in the Ensemble system is a Special Edition of Atohm's GT1, a two-way bookshelf design from Devialet, that according to the published data can go as low as 25Hz (-3dB) when SAM equalization is used.
For more information: http://www.devialet.com/
---