Gold Note introduced the Bellagio Conquest Black King, their best turntable ever!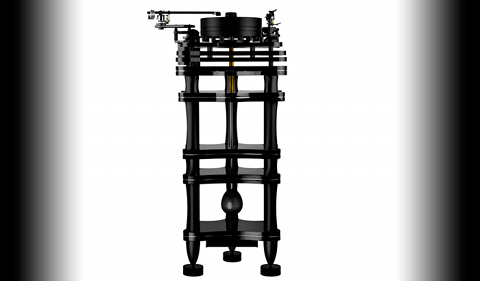 Source: Press Release, Last Accessed: 2014/12/12
Bellagio Conquest Black King is the limited edition, ultimate evolution of the best turntable ever designed by Gold Note, the Bellagio Conquest, introduced at the end of 2013, the company says. Their unique "Power Control System", for fine-tune the motor's torque, is also included.
The design features a 120kg super high mass structure, the upper part leveled on a plinth which integrates three adjustable aluminum semi rigid spring covers to allow for a user friendly fine-tuning. The main structure is also leveled on adjustable acrylic feet enable a perfect rocker arm axis set up.
According to the press release, Bellagio Conquest Black King is the only turntable that features a total of thirteen plinths enabling maximum stiffness and allowing tight resonance control. Plinths are connected with titanium spacers of different thickness, joined with specially machined solid block aluminum.
The turntable includes a 270 mm long spindle, the longest ever made for a turntable. The hardest carbon steel C40 alloy is used, hardened with a boiling oil process, rectified and polished to guarantee smooth rotation. The bearing is made of polished bronze to get a 1/100-millimeter matching tolerance with the long spindle. The length of the turntable spindle guarantees the smoothest platter rotation available offering force distribution along the spindle axis to enhance unsurpassed audio performance, Gold Note says.
Bellagio Conquest Black Pearl supports two 12-inch and 9-inch long tonearms installed on a high mass structure with a 20mm 6082 aluminum alloy arm board.
Gold Note's top turntables feature a unique "power control system" allowing to control the torque of the motor to finely adjust the turntable's "musical character". According to Gold Note, powering the motor with a lower torque is recommended to play, for example, recordings where details strongly matter, (like in chamber music) while the maximum torque is recommended for rock or symphonic music to enable more dynamics. The power control system is conveniently performed by a remote to let the listener adjust the turntable directly from his listening position.
For more information: http://www.goldnote.it/
---