Gold Note announced the Fiorino USB to S/PDIF converter.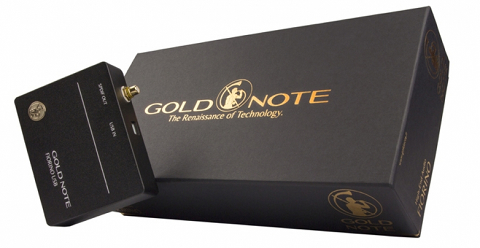 Source: Press Release, Last Accessed: 2014/06/02
That box allows you to connect any computer to your favorite d/a converter by using one of its standard coaxial S/PDIF inputs and stream your high resolution files through it. Even if your DAC includes a USB interface, there is a chance to get better sound. Fiorino uses a top class chip-set to do the job.
According to the press release, Fiorino is an asynchronous 24/192 high resolution USB to Coaxial S/PDIF converter, featuring a top quality USB interface with 480Mb/s High Speed Port that enhances the audio performance of computers and streamers.
Fiorino USB is a truly native audio format converter based on the XS1-L01A XMOS chip-set supporting all PCM and DSD files up to Fs of 192kΗz (there is no information about the DSD sample rates supported, though).
The device is self-powered (through the USB port) and does not require any driver setup for all Apple computers and devices while the Windows drivers are available for free through the Gold Note website.
Fiorino USB includes a high-quality USB 2.0 Gold Note cable to guarantee best audio performance.
For more information: http://www.goldnote.it/
---