IsoAcoustics to show cost-effective Arista stands at AES show.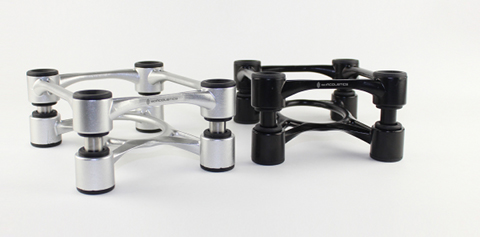 Source: Press Release, Last Accessed: 2014/10/02
At this year's AES Show in Los Angeles, IsoAcoustics will be introducing Arista, a stylish and sleek new aluminum acoustic isolation stand for medium-sized professional studio monitors and bookshelf speakers for Home Entertainment and hi-fi applications.
According to the press release, the new Arista stands provide an aesthetically pleasing and cost-effective means to markedly enhance the sound clarity of speakers, using the patented 'floating design' that the company has become known for.
The new IsoAcoustics Arista stands feature a unique integrated tilt adjustment that enables the user to dial-in the optimum tilt angle. With an overall size of 6x7.5-inch (wxd), the Arista stands are designed for medium size studio monitors and speakers weighing up to 35 lbs.
"IsoAcoustics is very pleased to introduce the Arista stand, which offers a handsome and cost-effective isolation solution for the pro studio and hi-fi market," says Dave Morrison, CEO of IsoAcoustics.
The Arista stand will be available in black and aluminum in December 2014.
For more information: http://www.isoacoustics.com/
---