JBL unveiled new Cinema SB350 soundbar.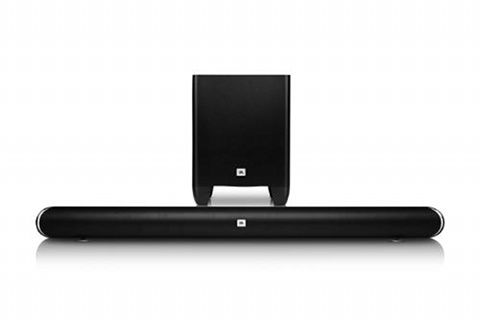 Source: Press Release, Last Accessed: 2014/09/04
JBL's new soundbar is a compact design that includes a powered wireless subwoofer, offering 320 watts of home theater sound for any TV. The Cinema SB350 is a 2.1 design that adapts to your own TV remote (for easy control) and, according to Michael Mauser, President of Harman's Lifestyle Division, is capable of "room-filling, believable sound [that] is an essential part of the home theater viewing experience" .
Designed to complement the TV-set, the JBL Cinema SB350 projects "big-movie" sound with Dolby Digital and Harman Display Surround sound from a great-looking compact unit that perfectly matches wall mounted or table stand installations. The separate subwoofer wirelessly connects to the Soundbar, allowing freedom of placement in any room, and with independent volume control, can be adjusted for the perfect level of bass at any time from your remote. The system connects with a single cable to the TV using an HDMI, optical or analog connection, and streams music from smartphones or tablets wirelessly using Bluetooth. 160 watts of power drive the Soundbar's built-in left- and right-channel speakers with another 160 watts for the wireless subwoofer.
To enhance the viewing and listening experience, JBL Cinema SB350 features Harman Volume, a technology that keeps sudden volume changes from disrupting the experience — no more suddenly loud commercials — and the system can learn any TV remote volume control, giving you simplified control over your cinema experience. Hardware to let you mount the soundbar on your wall as well as all cables to connect it to your television are also included.
For more information: http://www.jbl.com/
---