JVC announced four new in-dash receivers, just in time for the holiday season.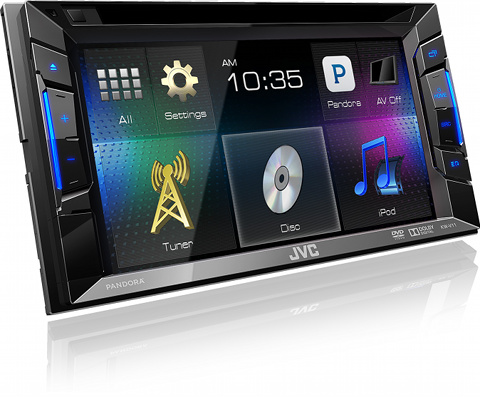 Source: Press Release, Last Accessed: 2014/10/20
JVC Mobile announced it is shipping four in-dash receivers from its anticipated 20 new-for-2015 products. The immediate availability of two multimedia centers and a pair of CD receivers gives retailers and consumers the latest technology and smartphone integration in time for the holiday season.
As next-generation models of the current KW-V10 and KW-V20BT receivers, the new KW-V11 and KW-V21BT double-DIN units feature a stylish, symmetrical design that accommodates a larger, 6.2-inch WVGA touch screen. A fully re-imagined touch panel allows users to place their favorite function tiles on the screen for a customized control experience. The screen also includes Monitor Touch Control, so users can adjust volume by performing a circular motion on screen and select media by swiping up/down or left/right with their finger. Additionally, each receiver can be controlled with factory-equipped steering wheel buttons using a third-party adapter, or with the optional RM-RK258 wireless remote control.
Both receivers are designed to connect seamlessly to the iPhone to access stored music and video as well as receive streaming media and Internet resources using the smartphone's broadband access. Each includes the ability to control specific apps on an iPhone 4 or 4S from the receiver and play back audio from the iPhone 5 and 5s.
Other benefits include a USB input that charges the connected device, an audio/video input, playback of multiple audio formats from a CD, DVD or connected device, a 5-band parametric equalizer and 11 preset equalizer settings that provide pinpoint control of sound quality, and connections for external amplifiers (front / rear / subwoofer) with 4.0-volt outputs for precise level matching.
The entry level KD-R660 and KD-R460 are next-generation models of the current KD-R650 and KD-R450, respectively. A new symmetrical design adds screen space and physical buttons. One of the most notable improvements from last year's models is Android Auto Mode. Android-based smartphone users can connect their phones to the receiver via USB. The user can browse, play and control stored media on the smartphone from the receiver after installing the free JVC Music Play smartphone app available on Google Play. Without the app, users can stream services or play back stored media by simply plugging in their phone or tablet and controlling source functions from the device.
Both receivers include an easy access front-panel charging USB port and 1/8-inch auxiliary input, two sets of pre-amplifier outputs (front and selectable rear / subwoofer) for the KD-R660 and one set (selectable rear / subwoofer) for the KD-R460, an included remote control, connectivity to factory-installed steering wheel buttons, and a dimmer that synchronizes with the vehicle's headlights.
Additionally, the KD-R660 connects to the iPhone to play and control stored media as well as Pandora and iHeartRadio, using the iPhone's broadband connection.
For more information: http://mobile.jvc.com/
---