Marantz announced new PM5005 and CD5005 Hi-Fi separates.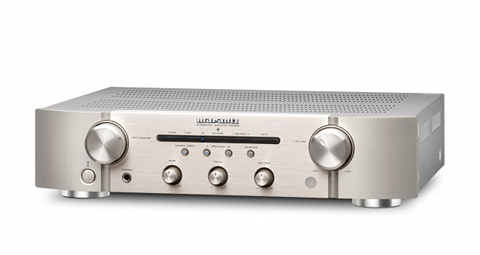 Source: Press Release, Last Accessed: 2014/06/20
Marantz has added to their stereo collection two new budget Hi-Fi separates, the PM5005 and CD5005 for the price-conscious music lover who loves good sound.
The PM5005 and CD5005 ($499 and $399 respectively, in the US market) are expected to be available in July at selected Marantz dealers and online. The new PM5005 entry-level integrated amplifier is the first in its class to offer current feedback architecture –a feature that normally, according to Marantz, is reserved for the more expensive models. It's also been recently enhanced with performance–optimizing discrete audio circuitry and fine-tuning components. In addition, this year's model looks a little more stylish than its PM5004 predecessor, thanks to new elegant knob design. On top of that, it comes with a new remote and a new low-power stand-by and auto stand-by mode. The PM5005 offers 55W per channel into 4 ohm, and includes a metal chassis and a front metal panel to ensure a very rigid and solid base. It also has a Phono MM input, as well as a "Source Direct" functionality to ensure shortest signal paths.
The new CD5005 CD player incorporates everything its predecessor, the CD5004, offered including the custom HDAM-SA2 discrete operational amplifier module the company is well known for. But this year it features an upgraded DAC (featuring the CS4398 chip) and a new CD mechanism – both taken from the CD6005. As can be expected, it plays CD, CD-R and CD-RW discs as well as MP3 and WMA files. The Audio EX(clusive) mode further enhances sound quality by switching off functions such as digital output and pitch control when not in use. The random play function gives users another option to explore music in a new way. Also new for this year is an upgraded remote controller as well as low power stand-by and auto stand-by modes. In addition, high-grade gold-plated analogue outputs guarantee best connectivity, while a well- defined headphone output, and an easy to read display rounds off this excellent player.
For more information: http://www.marantz.com/
---