MQA: Meridian unveiled revolutionary technology for high resolution audio.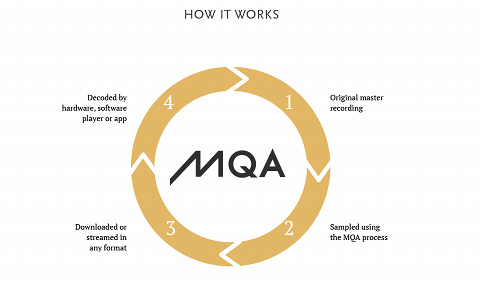 Source: Press Release, Last Accessed: 2014/12/04
Bob Stuart, founder of Meridian Audio, launched MQA (Master Quality Authenticated), a breakthrough technology to reverse the trend, in which sound quality has been continually sacrificed for convenience by capturing and preserving nuances and vital information that current music files obscure or discard, but in a file that is small and convenient to download or stream.
According to Meridian, MQA allows listeners to experience every intricate detail the microphone heard, offering music fans the purest ever sound. And it's based firmly in science. For the first time in history, music fans will be able to hear at home what the artist created and approved in the recording studio, and MQA confirms its exact delivery the company says.
Bob Stuart, the pioneer behind MQA technology said: "Music lovers need no longer be shortchanged; finally we can all hear exactly what the musicians recorded. MQA gives a clear, accurate and authentic path from the recording studio all the way to any listening environment – at home, in the car or on the go. And we didn't sacrifice convenience." Stuart also advised that "the announcement of MQA is really about the future of recorded music. Music is important to us all. When the sound is authentic it is more involving, we understand it better and enjoy it longer. MQA is already receiving broad support from the music industry, artists, recording and mastering engineers and record labels."
MQA begins with the sound that's been signed off by the artist and producer. Every last subtlety of that master recording is captured using a new sampling method that can resolve the finest time divisions we can hear and deliver them in your player. Meridian calls this process "Encapsulation": it is informed by the latest neuroscience and psychoacoustic research that shows how we identify and locate sounds, and that timing details of a few microseconds are important. This new technique combines this extreme level of time accuracy with authentic dynamic range.
The technology uses innovative lossless processing to build a file or stream which also delivers sophisticated metadata: details of the recording, instructions for the decoder and D/A converters plus how to create an authenticated exact reconstruction of the original analogue signal. MQA can be delivered inside any lossless container, e.g. as ALAC, FLAC, or WAV.
The playback process needs a simple decoder – which can be an app, a software player or hardware – and it reconstructs the exact sound approved in the studio along with an indicator to authenticate that what you are hearing is a true rendition of the original master recording; it works for all masters between 44.1 kHz and 768 kHz sampling.
MQA has another unique feature: the decoder gives the highest possible sound quality, but you may not yet have a decoder everywhere you listen – in the meantime the MQA file plays on normal equipment but instead of 'studio' you get 'CD' quality. MQA may be used for downloads or streaming.
For more information: http://www.meridian-audio.com/, http://musicischanging.co.uk/
---