Mu-so: Naim's first wireless music system.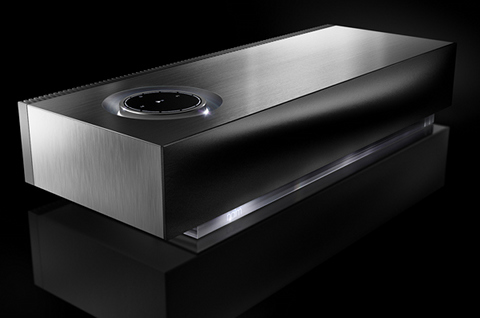 Source: Press Release, Last Accessed: 2014/11/06
After a rather dynamic presentation during the High End Show at Munich last Spring, Naim Audio launched their first wireless music in September. The system can stream high resolution "better than CD" quality music from an array of devices including smartphones and tablets as well as laptops and other storage devices.
Its advanced connectivity includes AirPlay, UPnP, Bluetooth (through aptX codec), internet radio and native support for popular streaming services. It will also boost the sound of the TV, set top box or games console through a digital input or take audio from an MP3 player or iPod/iPhone via USB or a 3.5mm analogue input.
A mu-so control app for iPad, iPhone and iPod as well as Android devices allow to create playlists and play favorite albums and, also, allows access to millions of high quality internet radio stations. The new control app is available to download for iOS and Android devices compatible with existing Naim streaming products as well as mu-so.
A bespoke EQ system can alter the sound performance based upon the space where the system is installed. Whether mu-so is positioned close or away from a wall, bespoke settings allow rich bass and treble reproduction even at low volumes.
Mu-so features six 75 watt switch-mode amplifiers driving each of the Naim custom-designed speakers independently (including its silk dome tweeters). It can be used as a central home hi-fi system or, when linked with other Naim streaming players such as the UnitiQute 2 or NDX as a client player, it can create a true high-fidelity multi-room system. Offering playback of 24bit/192kHz high resolution music, mu-so means music lovers no longer have to compromise sound quality for convenience.
Mu-so is compatible with most portable smart devices and compatible NAS drives and will connect to the home network wirelessly or via a wired connection through an Ethernet port.
Mu-so uses premium materials and shares its basic design lines with Naim's flagship amplification system, the Statement. A striking solid extruded aluminum heat sink runs across its length, designed to maximize thermal performance, longevity and sound quality. It is bead-blasted and anodized for a premium finish.
The internal speaker cabinet is wooden for acoustic performance while the aluminum skin offers extra dampening for a distortion free sound. The standard speaker grille can be detached and replaced with three optional color variations.
For more information: http://www.naimaudio.com/
---