New Onkyo High-End A/V Components Debut with Dolby Atmos, 4K/60 Hz Video.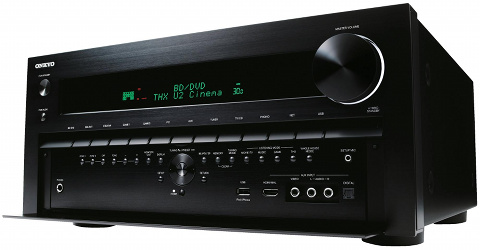 Source: Press Release, Last Accessed: 2014/06/23
Onkyo has unveiled three high-end audio-video components, featuring Dolby Atmos, latest HDMI 2.0 for 4K/60Hz video, Wi-Fi/Bluetooth, DTS Neo:X and ISF Video Calibration. The release includes the THX Select2 Plus-certified 9.2-channel TX-NR1030 Network A/V Receiver and 11.2-channel TX-NR3030 Network A/V Receiver, and a THX Ultra2 Plus-certified PR-SC5530 Network A/V Controller.
All three components introduce Dolby Atmos multidimensional sound to home theaters as well as the latest HDMI supporting 4K video at 60 Hz with HDCP 2.2 compatibility for Ultra HD streaming and broadcast video. With Dolby Atmos, sound comes alive from all directions, including overhead, to fill the home theater with astonishing clarity, power, detail, and depth.
All three Onkyo components feature Dual 32-bit DSP engines to decode, scale and calibrate Dolby Atmos to suit individual home theater configurations. With up to 11 channels of high-current amplification, users can unlock the full experience with in-ceiling height channels or Dolby Atmos-enabled speakers to augment a standard 5.1, 7.1, or 9.1 home theater setup.
Eight HDMI inputs and three outputs are specified for 4K/60 Hz video and 21:9 widescreen theater aspect, with HDMI Input 3 and Main Out supporting HDCP 2.2 copy protection to enable the playback of streamed or broadcast Ultra HD content and future 4K studio releases.
Qdeo technology by Marvell upscales low-resolution video to 1080p for Full HD displays and 4K for compatible UHD screens. All three components include selectable ISF video calibration, which optimizes picture settings to industry standards with night and day modes for optimal viewing in any conditions. Together, these technologies deliver next-generation video to big-screen TVs and projectors with picture quality that is nothing short of spectacular.
Both the TX-NR1030 and TX-NR3030 feature a customized high-regulation transformer, with the latter adding two additional EI transformers for audio and video processing, as well as custom 18,000uF capacitors and low-distortion three-stage inverted Darlington amplification circuitry. The PR-SC5530 has a custom toroidal power supply and separate EI transformers for A/V processing.
All three components are built for high-resolution audio processing with seven discrete TI Burr-Brown DACs. The TX-NR3030 and PR-SC5530 boast top-of-the-line 192 kHz/32-bit processors, with the TX-NR1030 featuring seven 192 kHz/24-bit two-channel DACs. Audio decoding is handled by Dual 32-bit DSP Engines. The components include DTS Neo:X, a powerful multiplexing solution capable of upmixing stereo and 5.1-channel sources to 7.1, 9.1, or 11.1 channels while providing optimized DSP modes to suit games, movies, and music.
Quality audio-grade terminals are featured throughout. The TX-NR1030 and TX-NR3030 have 11.4 multichannel preamplifier outputs and balanced XLR outputs for the front L/R channels, while the PR-SC5530 has both balanced 11.4-channel XLR pre-outs and 11.4 multichannel pre-outs. All models feature 18 mm-pitch front-channel RCA pre-outs to accommodate high-quality cables.
All amplifiers feature the proprietary AccuEQ room calibration technology that measures and corrects speaker distances, levels, crossovers, and frequency response from one convenient listening position to ensure cohesive surround-sound while enabling playback of 7.1-channel formats at 96 kHz without down-sampling. For pure and authentic stereo performance, AccuEQ bypasses the front channels so the unique character of the user's loudspeakers can be enjoyed without DSP correction potentially altering the sound.
For fans of high-resolution audio, built-in Wi-Fi supports DSD128, gapless 192 kHz/24-bit FLAC and WAV, and Dolby TrueHD streaming from media servers with song selection via remote app. Audio can also be streamed directly from mobile devices over Wi-Fi, including a limitless selection of music from the widest range of internet streaming services currently available. Bluetooth 2.1 + EDR streaming quality is enhanced by a Music Optimizer DSP mode which restores lost bit information for cleaner, fuller sound.
The new amplifiers will be available from August with suggested prices of $1,699, $2,399 and $2,499 for the TX-NR1030, TN-NR3030 and PR-SC5530 respectively.
For more information: http://www.onkyo.com/