New Pioneer Elite Reference Blu-ray players strive to offer highest quality audio and video possible.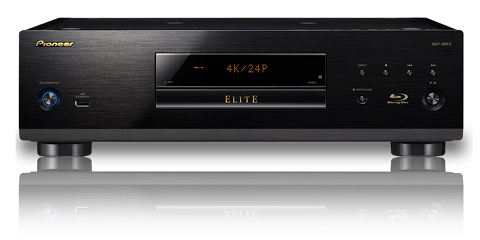 Source: Press Release, Last Accessed: 2014/09/11
Pioneer announced the Elite BDP-85FD and flagship BDP-88FD Blu-ray players designed to be the ultimate reference players for today's audio and video enthusiast. The Elite models feature exceptional construction, high quality video upscaling, precise audio reproduction, and advanced network capabilities.
According to the press release, both Elite Blu-ray players reproduce exceptional video quality by utilizing Pioneer's new advanced video engine consisting of the Precise Pixel Driver image processor and Pioneer's new 4K Reference Converter that upscale existing disc-based or network content to Ultra HD 4K resolution (4K/60p/4:4:4/24-bit) providing the finest picture quality possible when used with a compatible UHD display. The upscaled video is output via HDMI 2.0 utilizing its full 18GBPS bandwidth.
BDP-85FD and BDP-88FD employ the ES9018 ESS Sabre reference DAC, capable of playing DVD Audio, SACD and the most popular high resolution audio files. The BDP-88FD takes things further by using all four of its integrated DACs in parallel to reduce noise. Both players also feature a "Direct Function Circuit" for use in pure analog audio playback mode shutting off all video circuits and dedicating the processing power to the audio components. According to Pioneer, the BDP-88FD provides increased audio performance with its use of a large capacity power supply transformer, dual clock circuit for 44.1 kHz/48 kHz playback, Hi-Bit and Hi-Sampling processing, and a DAC filter.
Both players support DLNA, giving the ability to quickly share audio and video content from a PC via the user's home network. Both models can also work as a DMP/DMR (Digital Media Player/Digital Media Renderer) to push content directly from a portable source such as a compatible smartphone or tablet. The players were also designed to stream high resolution music content from USB, disc, and hard drive devices. In addition, both models offer YouTube "Send to TV," making it extremely easy to watch YouTube videos using paired devices.
To greatly reduce unwanted vibration, both Elite models utilize a double-layered chassis for low center of gravity and a highly rigid bonnet structure. In addition, the BDP-88FD employs a 3-chamber structure separating its power supply, digital processing circuitry, and audio circuitry. The BDP-85FD and BDP-88FD are compatible with Pioneer's new iControlAV5 App that enables most smartphones to act as a basic remote control for the player when connected via a wireless router. The app is available for free through the App Store for iOS devices and through Google Play for Android devices.
The Pioneer Elite BDP-85FD and BDP-88FD Blu-ray players will be available in December.
For more information: http://www.pioneerelectronics.com/
---