Pioneer AV Receivers to incorporate latest HDMI specification.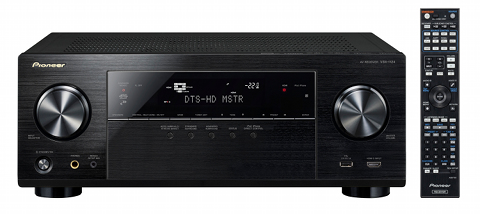 Source: Press Release, Last Accessed: 2014/03/12
Pioneer introduced three home theater receivers designed to support the most up-to-date high quality audio and video formats. The VSX-824 5.2-channel and VSX-1024 and VSX-1124 7.2-channel receivers support the HDMI 2.0 specification for high resolution video playback on 4K televisions.
Pioneer was among the first manufacturers to incorporate HDMI 2.0 into its line of receivers, bringing the latest advances in consumer entertainment into the home. Finalized in September 2013, version 2.0 of the HDMI specification offers a significant increase in signal bandwidth, now up to 18Gbps. The increased bandwidth provides support for new features such as 4K 60p 4:4:4 color support.
The receivers use a microphone (included) and a subwoofer EQ (new for 2014 on the VSX-1124) to compensate for differences in speaker sizes, output levels, and distances from the user's listening positions automatically.
The VSX-1124 supports the next generation 4K2K Ultra HD resolution standard to help provide the highest quality video image available, with the ability to pass through 4K video signals of up to 60 frames per second to any HDMI 2.0-equipped 4K display. It can also upscale lower resolution signals before delivery to make them viewable on compatible 4K Ultra HD displays.
Pioneer added playback support for 96kHz 24-Bit 5.0- and 5.1-channel FLAC and WAV files on the VSX-1124. The receiver also supports other high-resolution audio files including AIFF, WAV, FLAC, DSD (2.8 MHz), Apple Lossless, MP3, WMA and AAC, offering broad support for the most common high-resolution music. Gap-less playback for many of these file formats is supported as well.
For more information: http://www.pioneerelectronics.com/
---