Pioneer brings back vinyl playback with new professional direct drive turntable.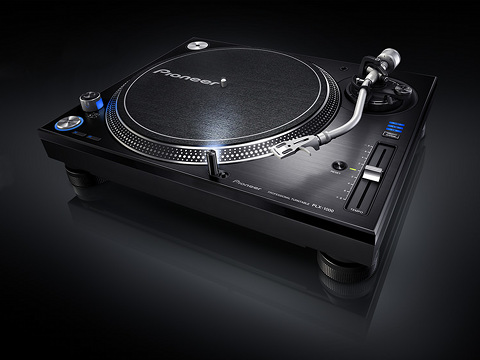 Source: Press Release, Last Accessed: 17/07/2014
Pioneer launched the PLX-1000 professional turntable designed for DJs who enjoy the look, feel, and performance of vinyl for music playback. The model offers a highly familiar, user-friendly control layout, high-torque direct drive mechanism, and can be combined with Pioneer's professional series DJM mixer. Needless to say, it could be of interest for audiophiles too…
The PLX-1000 provides a user friendly layout familiar to top DJs of the past and present, providing quick tempo control capability on the right side of the player, start/stop button on the left side, and a high-torque motor that drives a platter with a lighted strobe pattern. The direct drive architecture of the PLX-1000 provides stable rotation and exceptional control. The turntable can achieve a starting torque of at least 4.5 kg x cm and can reach its fixed rotation speed within 0.3 seconds (at 33 1/3 rpm).
To create an extremely stable player and prevent vibration, Pioneer utilized a heavy-mass zinc die-cast chassis for the top section of the player, reinforced with a bottom section made of 8-mm thick resin. The base of the unit was further enforced with 9-mm thick vibration-damping material. The tone arm uses rubber insulation to minimize howling effects during audio playback. The RCA jacks feature gold-plated machine-cut parts for low a low loss connection.
The player provides a range of tempo adjustments from ±8% and ±16% to ±50%, giving users a range of pitch speeds. A "Reset" button for tempo sits next to the tempo slider for instant ±0% fixed rotation speed.
The Pioneer PLX-1000 professional analog turntable will be available in August with a suggested retail price of $849.
For more information: http://pioneerdj.com/
---