New Pioneer compact component system offers audio quality & extensive network options.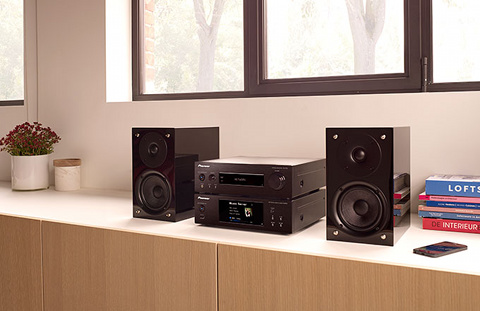 Source: Press Release, Last Accessed: 2014/08/12
Pioneer announced the new P2DAB compact component hi-fi system, which consists of the SX-P01 stereo receiver and the all-new N-P01 network audio player. The N-P01 network audio player can also be added to other systems, such as the previous CD-based P1DAB compact component system, the P2DAB also comes with matching high-quality 2-way speakers. All devices in the new compact component Hi-Fi systems feature sleek, modern looks with rigid aluminum front panels that will blend with any interior design, all controlled by a remote handset.
Thanks to the integrated Direct Energy HD amplifier, SX-P01 produces up to 2x75 Watts of music power, the preamplifier block being separated from the other circuits and powered through a separate power supply.
Although the N-P01 is a part of the P2DAB, it can be connected to any Hi-Fi system. The player is able to stream music from a PC, a Mac or a NAS (Network Attached Storage) over a wired or a Wi-Fi connection and offers access to internet radio, supported by vTuner. It's also possible to stream music from Bluetooth devices, such as smartphones and tablets. Its compatibility with the aptX audio codec guarantees the best possible sound quality when a Bluetooth connection is used. Furthermore, the N-P01 is compatible with AirPlay, and the system also offers access to the hugely popular Spotify music service. The USB-port on the front panel allows for USB connectivity as well as iPod/ iPhone/iPad connections. The N-P01 plays MP3, WMA, WAV, AAC, FLAC, ALAC, and AIFF files, as well as hi-res audio files in WAV, FLAC, ALAC, AIFF and DSD (2.8 MHz)-format.
Browsing through this wealth of possibilities is a breeze, thanks to the extensive and well laid out infrared remote control and 3.5-inch LCD color display on the front panel that displays album art. The N-P01 can also be controlled using the acclaimed Pioneer ControlApp, which is available free of charge for iPhone, iPod touch and iPad from the App Store. An Android version is available free of charge at the Google Play store.
Completing the set are the S-P01 glossy black, 2-way bass reflex, bookshelf speakers. They use a 12cm high-strength, glass fiber cone woofer and a 25mm soft dome tweeter.
For more information: http://www.pioneer.eu/
---