Polk takes desktop loudspeaker design to new heights with Hampden.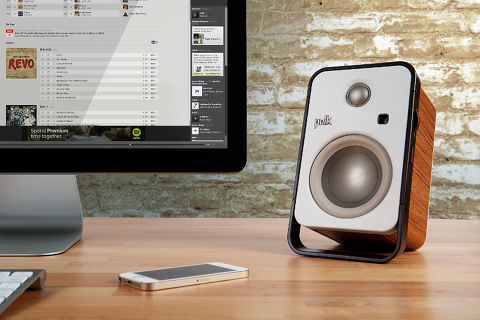 Source: Press Release, Last Accessed: 2014/06/03
Hampden blends high quality audio with an elegant home decor aesthetic due to its stylish, retro-meets-contemporary design. Hampden is constructed in an all-wood cabinet with a curved teak wood veneer that is offset by an all-white front with glass-filled, nylon bezels. To control volume, the loudspeaker features an intuitive rotary wheel, both simplistic and iconic in its application, which allows users to effortlessly alternate sound levels.
By adding USB connectivity, Bluetooth wireless technology and compatibility with the DJ Stream App, users have more listening options and access to an interactive element that creates a more social and sharable music playing experience. The app allows up to four people to connect to the Hampden as DJs and create a playlist from music libraries on their device. One user will serve as the DJ Host, controlling music play, while the others function as Active DJs. While taking turns adding music to the playlist, up to 128 additional Guest DJs can view the playlist, vote on music and become an Active DJ when one of the four phones drops off or disconnects.
The system is powered by two 1-inch, soft-dome silk/polymer tweeters and two 4.5-inch polypropylene woofers with rubber surrounds. Each driver and tweeter also comes with a dedicated amplifier. Additionally, Polk added in a fully digital control amp, which bypasses a computer's digital to analog converter and handles all of the digital signal processing when connected via USB.
For more information: http://www.polkaudio.com/
---