Pro-Ject announced the new Xtension 9 Evolution turntable.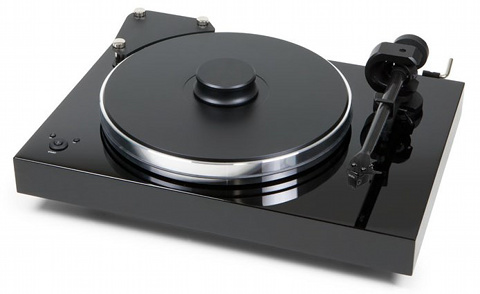 Source: Press Release, Last Accessed: 2014/04/07
Xtension 9 Evolution chassis is made from high-class ultra dense MDF and uses magnetic feet to decouple the main plinth from its base by isolating the weighty 16kg total turntable mass from vibration. Instead of a pure metal main platter, an aluminum alloy which is damped with thermoplastic elastomers (TPE) is used, along with a mat from recycled vinyl records.
Main bearing consists of ceramic ball and plate with a magnetic suspension that virtually reduces the platter mass, and, according to Pro-Ject, minimizes rumble noise. Xtension 9 Evolution features a quartz-based circuit for high precision, electronic speed regulation (Speed Box) with microprocessor control for change between 33 & 45rpm.
The new turntable features the 9cc Evolution tonearm, a design with a conical carbon-fiber armtube, inverted bearing design and a solid tonearm base that offers VTA adjustment. Azimuth can, also, be adjusted by rotating the armtube through its single-point fixing. For universal use, 4 different counterweights are included as an accessory to balance cartridge masses from 5 up to 14 grams.
Tonearm cabling includes highly flexible top-grade copper internal wiring terminated in a 5-pole premium connector as well as a VDH low capacitance cable with RCA or (on request) XLR plugs, to fit unbalanced or balanced phono preamplifiers.
Xtension 9 Evolution comes in 5 different high gloss lacquer finish options (Mahogany, Olive, Piano Black, Red, White) and, also, as a "Superpack" version that includes a pre-installed Ortofon MC Quintet Black moving coil cartridge.
For more information: http://www.project-audio.com/
---