Samsung launched Level, a new series of premium mobile audio products.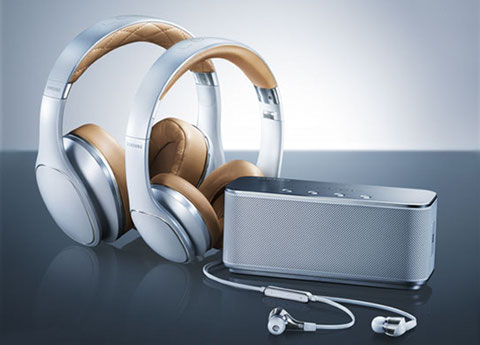 Source: Press Release, Last Accessed: 2014/07/22
Samsung announced the Level, a new series of premium audio products, offering a range of audio accessories with high sound quality, superior comfort, portability, and style that give mobile users the best possible sound experience for their smartphone or tablet.
The Level series is comprised of four types of audio products for any type of mobile user: Level Over, Level On, Level In, and Level Box. All four products allow users to take calls while listening to any type of audio and ensure the best sound clarity during their call.
Level Over is Samsung's flagship over-ear headphone featuring a comfortable ergonomic design, touch controls, and wireless Bluetooth pairing. A 50 mm dynamic driver made with high performance Neodymium, which is 30% stronger than regular magnets, lets users get deeper, more natural sound. Plus, an edge-free structure made from Bio Cellulose prevents resonance between the vibration plate and the frame, avoiding unnecessary booming. Level Over also uses a hybrid type active noise cancellation, both inside the headphone and with an outside mic.
Level On combines a compact style with superior comfort and provides a full range of natural and clear sound, flexibly dampening the air flow with a 40 mm dual layered diaphragm, while Level In is an in-ear model with a three-way driver and an in-line control for volume adjustment, pause/play, advance to the next track and control phone functionality.
Finally, Level Box is a premium and compact Bluetooth speaker that features a solid metal design complete with a full metal grille. With a large (56mm) stereo speaker and a passive radiator, the system is optimized to deliver high quality sound that is powerful, crisp and balanced. The dedicated hardware design provides noise reduction and echo cancellation, and built-in microphone deliver clear voice, making it ideal for phone calls and conference calls.
Users can simply place a Near-Field Communications (NFC) enabled smartphone near the Level Box to quickly and easily make a connection. Devices without NFC capabilities can still be effortlessly connected through the speaker's one touch Bluetooth pairing system. Controlling the speaker is also easy with its built-in buttons that allow you to play or stop a song, adjust the volume, and even accept or reject calls. Users can enjoy up to 15 hours of continuous playback through the Level Box's rechargeable battery.
For more information: http://www.samsung.com/
---