Sharp to deliver WiSA-Compliant universal player offering wireless High Fidelity Audio and Full HD Video.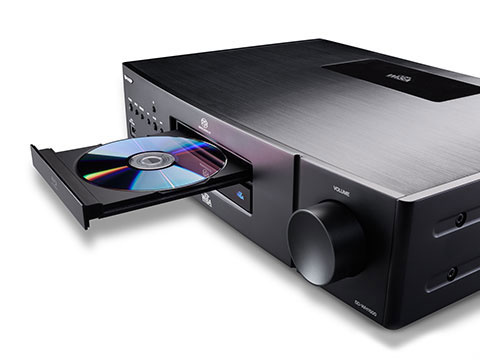 Source: Press Release, Last Accessed: 2014/02/21
Sharp Electronics has unveiled the Sharp universal player and wireless bridge, the first Wireless Speaker and Audio (WiSA) Association-compliant universal player system. The Sharp Universal Player (SD-WH1000U) is the first component to transmit uncompressed sound at 24-bit96kHz and video at Full HD (1080p) — wirelessly.
The player can be set up as part of a complete WiSA ecosystem using internal transmitters to connect with up to 8 WiSA-compliant loudspeakers (thus, supporting up to 7.1 channel surround sound). Alternatively, the user could install the Sharp WiSA-compliant wireless bridge system available (VR-WR100U) that pairs with a consumer's own amplifier and loudspeakers.
The player can handle SA-CD and CDs, Blu-ray discs and DVDs and offers 3 HDMI inputs, 2 USB ports and an internet connection to bring a wealth of online and portable device options to the consumer.
The player's ultra-rigid disc drive mechanism accurately reads Super Audio CD and standard DVD discs as well as delivering all the data from the even more challenging Blu-ray format. The combination of a dual-core insulated base system and the expanded structure printed circuit board topology eliminates interference from external vibrations and stray signals. New power supply components including custom-tuned enhanced stability capacitors and a powerful yet efficient R-core transformer ensure precise and stable operation.
The WiSA-compliant Sharp Universal Player (SD-WH1000U) will have an MSRP of $3,999.99 and the WiSA-compliant Sharp Wireless Bridge (VR-WR100U) will have an MSRP of $599.99. Both will begin shipping in the spring of 2014.
For more information: http://www.sharpusa.com
---