Creative unveiled their flagship pro-grade Sound Blaster E5.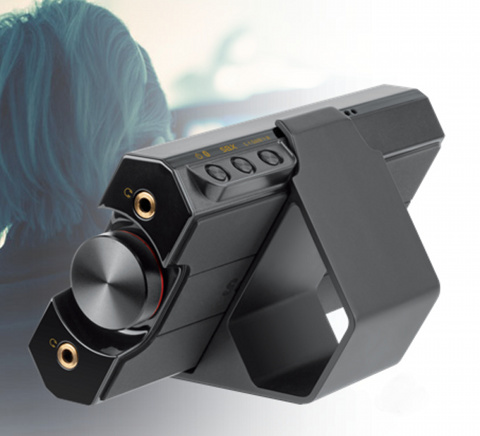 Source: Press Release, Last Accessed: 2014/08/26
Creative launched a new audio solution for USB DAC and headphone amplifier, a 24-bit/192kHz 120dB high resolution design for smartphones, tablets and PC/Mac computers, featuring top-notch specs and audiophile-grade components.
The new flagship product is an extension of Sound Blaster's E-Series line of compact portable USB audio solutions. Launched in May 2014, the Sound Blaster E-Series includes the Sound Blaster E1 and Sound Blaster E3.
According to the press release, the Sound Blaster E5 is packed with premium-grade components such us the Cirrus Logic (CS4398) 120dB DAC that supports high resolution audio playback of up to 24-bit/192kHz when connected to PC/Mac, including 24-bit/88.2kHz and 24-bit/176.4kHz and the Cirrus Logic (CS5361), a 114dB ADC for low noise analog line-in audio playback and audio recording of up to 24-bit/192kHz.
E5 offers USB 2.0 host connectivity allows streaming of high quality, lossless digital audio from Android and iOS (up to 24-bit) devices while on the go and asynchronous USB Audio streaming that reduces jitter and allows accurate high-resolution audio data transfer from the computer. Built-in rechargeable 3200mAh lithium polymer battery provides users up to 8 hours of playtime while on the go and gold-plated audio connectors create precise contact for low signal loss.
For additional real-time audio enhancement for music, movies and games, the built-in multi-core SB-Axx1 multi-core audio DSP allows users to activate Sound Blaster's intelligent processing capabilities via the SBX Pro Studio suite that can be switched off when listening to lossless audio. The user can control E5 through the Sound Blaster E-Series Control Panel for PC/Mac users, or the Sound Blaster Central mobile application for iOS and Android devices. ASIO support allows for reduced latency for a higher resolution audio experience.
The Creative Sound Blaster E5, priced at $199.99, will be available from October 2014.
For more information: http://www.creative.com/
---