SPL Phonitor starts shipping the mini headphone amplifier.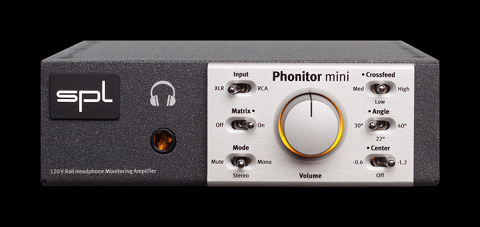 Source: Press Release, Last Accessed: 2014/09/18
The newest member in the SPL Phonitor family, the Phonitor mini, is now available in stores. The Phonitor mini features at its core the exact same 120-volt technology as the Phonitor2, the brand's flagship headphones amplifier, which provides for superior technical specifications and a premium-quality sound.
According to SPL, the Phonitor mini can be used in any situation and environment where there is a need for professional sound quality, from home and project studios to big orchestra recordings and live applications, besides being ideally suited for Hi-Fi and audio enthusiasts.
The new amplifier offers 2x1W and 2x2W of power at 600 and 300 Ohm loads respectively and includes both balanced and single ended inputs through XLR and RCA connectors. Headphones can be connected through a standard 6.3mm TRS connector.
The mini uses the 120-V technology advocated by SPL Phonitor, where a higher than usual voltage power supply is used (+/-60V) for the operational amplifiers allowing for a better dynamic range and lower distortion figures.
The new amplifier offers the crossfeed technology SPL is well known for, where a switch determines the volume-dependent, frequency-corrected channel crosstalk, which is something that occurs naturally with speakers, due to their sound projection into a room and to a human auditory perception attribute called Interaural Level Difference (ILD, the difference in sound level between the two ears). The different crossfeed values could be compared to the influence of different room sizes and characteristics on the same loudspeaker settings. Crossfeed switch interacts with two more controls, the "Angle" and the "Center" to optimize the soundstage according the user's taste or needs.
For more information: http://spl.info/
---