Steinway Lyngdorf announced Dolby Atmos and AURO-3D compatible surround sound processor.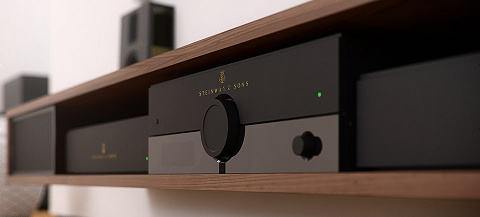 Source: Press Release, Last Accessed: 2014/09/10
Steinway Lyngdorf announced its latest product, the pioneering Model P200 three-dimensional surround sound processor that supports both Dolby Atmos and AURO-3D decoders and offers the well known RoomPerfect room correction technology as well.
With full support of Dolby Atmos, AURO-3D, video scaling, 4K and 3D video, HDCP 2.2, and advanced HDMI switching, the Model P200 delivers a full digital high-def surround sound experience that the attendees of the CEDIA Expo in September were offered a sneak peek of. According to the press release, the new processor will be released to the market in early 2015.
With Dolby Atmos and AURO-3D, filmmakers can now add height and top layer elements to a soundtrack for the most realistic cinema-sound listening experience ever created. The Steinway Lyngdorf Model P200 will work with these technologies in a versatile approach that allows for unlimited creativity in installations.
"Can't choose which format to bet on? Fret not," said Thomas Birkelund, Steinway Lyngdorf CEO. "The Model P200 can handle multiple speaker setups, meaning you can place speakers in the exact positions recommended for any format, instead of having to place speakers in a compromised, middle-ground position. This way you get to hear the immersive soundtrack just the way it was intended when mixed. With the Model P200, your system is optimized for each format, every time."
Like its award-winning predecessor the Model P1, the Model P200 surround sound processor keeps the audio stream entirely in the digital domain throughout the audio chain, while maintaining the full resolution and dynamics of the original signal. The processor also includes the RoomPerfect technology, an advanced three-dimensional room correction system that allows for each loudspeaker to be adjusted to account for the environment's influence, for optimum performance.
For more information: http://www.steinwaylyngdorf.com
---