Tannoy announced upgrades to popular Revolution loudspeaker series.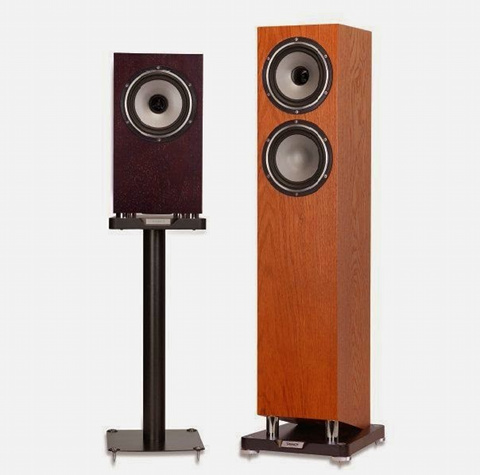 Source: Press Release, Last Accessed: 2014/10/06
Tannoy has launched the Revolution XT Series, an upgrade to their best-selling Revolution loudspeakers. The announcement was made by TC Group Vice President of Residential Communications Tim Chapman who described the upgrade as "dramatic".
While the characteristic, trapezoidal shape of the original Revolution cabinet remains, the engineering team at Tannoy has implemented radical acoustic engineering and new patent-pending Tannoy technologies into the new loudspeaker series.
According to the press release, Revolution XT loudspeakers are based on the new Omnimagnet powered Dual Concentric driver to deliver a natural and engaging sound with exceptional imaging, wide HF dispersion and deep, articulate bass.
Hand built with premium audiophile components, the crossover's simple, straight design philosophy provides an ultra-clean signal path to retain the utmost musical information. Large, gold-plated bi-wire binding posts allow a solid cable connection for reliable signal transfer.
Shown in September at CEDIA 2014, the Revolution XT 6F and XT 8F floorstanding models feature two chambers which utilize an innovative internal port system that provides acoustically beneficial cabinet rigidity. The dual-cavity coupled reflex system optimizes driver performance throughout the entire bandwidth while reducing adverse low-frequency standing waves, the company says. LF energy exits from an angled down-firing port at the base of the floorstanding models, spreading into the room between the cabinet and the integrated plinth. This design is known for allowing easier loudspeaker placement almost immune to room boundary effects while delivering musically coherent bass reproduction.
The handcrafted cabinets are available in a choice of dark walnut or medium oak real wood veneers. The series consists of the XT Mini (4-inch bookshelf), the XT 6 (6-inch bookshelf), the XT 6F(6-inch floorstanding), the XT 8F (8-inch floorstanding) and the XT C (center channel).
For more information: http://tannoy.com/
---